We're in the home stretch in our thankful series where PHR will continue its look at what teams are thankful for as the second half of the season gets underway.  We'll examine what has gone well in the first half and what each team may be looking for at the trade deadline.  Next up is Washington Capitals.
What are the Capitals most thankful for?
Firepower and plenty of it.  Washington is averaging over 3.5 goals per game which has allowed them to overcome some shaky goaltending at times to sit atop the Eastern Conference in points while being tied with St. Louis for the league lead.  They already have seven players that have reached double digits in goals and the new $9.2MM man Nicklas Backstrom isn't even one of them (he's at nine tallies on the year).  They're a team that is designed to have two high-scoring lines and so far, they've been exactly that which has made them tough to beat most nights.
Who are the Capitals most thankful for?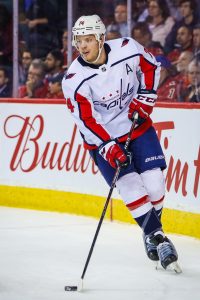 It would be very easy to pick Alex Ovechkin here.  He's once again among the league leaders in goals and just keeps getting it done.  But the season that John Carlson is having is too much to overlook.  He's on pace for 98 points which would blow past his previous career high of 70.  He has more goals than the rest of Washington's back end combined.  He's once again logging heavy minutes, checking in at 24:49 per night, the team high by a considerable margin.  He plays in all situations.  At this stage, he's the hands-on favorite for the Norris Trophy.   And they're especially thankful that he's signed through 2025-26 on what is looking like more and more of a team-friendly deal worth $8MM per season, well below what he'd be getting if he was hitting the open market this summer.
What would the Capitals be even more thankful for?
More consistency from Braden Holtby.  While there are still some nights where he plays up to the top level he has been at before, there have been more where he has been average at best.  Ilya Samsonov, their goalie of the future, has been the better of the two netminders almost all season long.  With their eyes on a lengthy playoff run, it's unlikely that they'll consider trading him by the deadline even though they run the risk of losing him for nothing in free agency in July, an outcome that is looking more probable following Backstrom's new deal.  Holtby playing like the Holtby of old would make that call much less painful.
What should be on the Capitals' Wish List?
In a perfect world, a top-four defenseman would be added to serve as an upgrade over Nick Jensen and Radko Gudas.  However, that's probably not a realistic addition with their salary cap situation.  While Washington is no longer at the point where they can only afford to dress 11 forwards for a game, they're not near a point where they can say they have a lot of flexibility either.  As a result, they'll have to set their sights lower.  A veteran third pairing blueliner to give them some injury insurance or matchup flexibility would be a useful addition and if they could find a way to add some more offense in their bottom six group (someone that could move up when injuries strike), that would be a nice added bonus as well.
Photo courtesy of USA Today Sports Images.