As the holiday season is upon us, PHR will continue its look at what teams are thankful for as we get closer to the halfway point. There also might be a few things your team would like down the road. We'll examine what's gone well in the early going and what could improve as the season rolls on for the San Jose Sharks.
What are the Sharks most thankful for?
Considering how disappointing San Jose has been this season, it may come as some surprise that they've been one of the healthiest teams in the league all things considered.  Defenseman Radim Simek is the only full-time regular that has missed more than five games and while he's a regular, he's also on their third defense pairing.  Most of their core forwards haven't missed a game this year aside from Tomas Hertl (four games due to a lower-body issue).  Things haven't been pretty for them in 2019-20 but so far, they've at least managed to stay healthy.
Who are the Sharks most thankful for?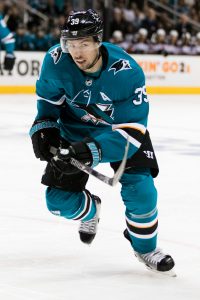 Going into the season, the duo of Erik Karlsson and Brent Burns would have been the logical pick but both of them have underachieved mightily.  One player who isn't quite in that category is Logan Couture.  The long-time Shark has seen his offensive numbers dip a little bit this season (pretty much everyone has) but he continues to lead the way.  He's the team leader in scoring, on pace for his second straight 65-point campaign, and is logging nearly 19 minutes a night.  The captain is also signed through 2026-27 at an $8MM price tag and unlike the expensive blueliners, he should be able to provide a decent level of return on that contract for close to its entirety.
What would the Sharks be even more thankful for?
More production from, well, just about everyone.  Their high-priced back end has underachieved considerably so far; Burns and Karlsson have combined for just ten goals in 81 games.  For perspective, Burns alone has averaged more than 20 a year over the past six seasons.  The goaltending duo of Martin Jones and Aaron Dell have a combined .895 save percentage which is among the lowest in the league.  Timo Meier may not reach 50 points after scoring 66 last season.  Joe Thornton has just one goal so far.  Kevin Labanc is well off last year's pace (and there are others in that situation as well).  Some of them returning to form would be a huge boost for them in the second half.
What should be on the Sharks' Holiday Wish List?
Barring a turnaround over the next few weeks, it's looking like San Jose is going to be selling which means picks and prospects will be what GM Doug Wilson is looking for.  Defenseman Brendan Dillion should yield a reasonable return while depth pieces like Melker Karlsson and Marcus Sorenson may draw some interest.  This core is probably going to be given another opportunity as it stands though unless they have to move a key player out for a goalie.  That move, if it happens, seems like more of an offseason deal than one before next month's trade deadline.
Photo courtesy of USA Today Sports Images.