We're in the home stretch in our thankful series where PHR will continue its look at what teams are thankful for as the second half of the season gets underway.  We'll examine what has gone well in the first half and what each team may be looking for at the trade deadline.  Next up is the Toronto Maple Leafs.
What are the Maple Leafs most thankful for?
Their high-end group of forwards.  They have more than $40MM tied up in their big four up front in Auston Matthews, John Tavares, Mitch Marner, and William Nylander and after a sluggish start to the season, they are firing on all cylinders.  The four have combined for more than 47% of Toronto's goals heading into action on Wednesday night (75 goals out of 159) and give them two very dangerous lines to work with.  Tying up that much money in a small group certainly has its risk but if they're producing like this, they're getting what they paid for.
Who are the Maple Leafs most thankful for?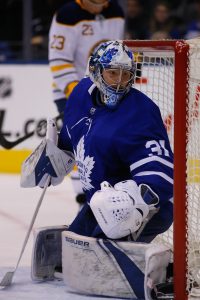 It would be easy to pick one of Marner, Matthews, or Tavares but they're most thankful for goaltender Frederik Andersen.  He has shown the ability to handle a large workload in terms of games played.  He faces an even bigger workload in terms of shots faced (and chances) as the team doesn't have as strong of a back end as some contenders due to what they've committed to that forward group.  They've shown that they can overcome an injury to one of their big four up front but if Andersen goes down for any significant period of time, they'd be in trouble.  Toronto is also thankful that he's on a below-market deal with a $5MM price tag but that won't be the case for long as he's up for a new deal after the 2020-21 season.
What would the Maple Leafs be even more thankful for?
For starters, going more than a few weeks without any injuries of significance.  At one point, they were looking like they were going to need to carry a roster that was close to the minimum size for salary cap reasons but that has yet to happen with so many regulars missing time in the first half of the season.
Beyond that, getting more from their back end will be crucial.  Cody Ceci hasn't adapted too well to his new team while Travis Dermott hasn't progressed relative to his role from a season ago.  Morgan Reilly and Tyson Barrie have both underwhelmed offensively.  Defense becomes even more important down the stretch and into the playoffs and a lot of their players have room for improvement; if they can do that, they'll be in much better shape for their postseason push.
What should be on the Maple Leafs' Holiday Wish List?
While the injuries have afforded them some short-term relief in the form of more LTIR room to work with, they're still going to be somewhat limited in terms of cap space at the trade deadline.  As a result, it's unlikely that Toronto will be able to add an impact player, even if they get the other team to retain salary.  Depth will be the name of the game for GM Kyle Dubas who would be wise to try to add a veteran to shore up their back end and give them some injury insurance.  Given their cap commitments in place already, it will likely need to be a rental acquisition.
Photo courtesy of USA Today Sports Images.