As the holiday season is upon us, PHR will continue its look at what teams are thankful for as we get closer to the halfway point. There also might be a few things your team would like down the road. We'll examine what's gone well in the early going and what could improve as the season rolls on for the Pittsburgh Penguins.
What are the Penguins most thankful for?
Surviving the first half of the season despite a litany of injuries.  To be fair, that's underselling just what the Penguins have accomplished.  They've had numerous core players go down and despite that, they sit just one point out of second in the division.  They've had role players like Bryan Rust pick up their play considerably.  Some of their younger players have stepped up and instead of just holding down a roster spot, they've made contributions on both ends.  Even with Matt Murray struggling, they just keep trekking on as Tristan Jarry has taken over the number one job and has been dominant.  Pittsburgh has had a lot thrown at them already this season and they haven't missed a beat.
Who are the Penguins most thankful for?
There are a lot of viable options here.  Their franchise forwards would each be a safe pick.  Rust and Jarry have been terrific.  Kris Letang is still logging heavy minutes to help that back end.  There's a case to be made for any of them.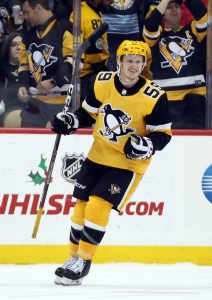 But Jake Guentzel's continued emergence gives him the nod.  While he scored 40 goals last season, some attributed that to riding Crosby's coattails.  That hasn't been the case this season and the production hasn't gone down.  Actually, it has gone up slightly as he's on pace to surpass the point per game mark for the first time in his career while he leads the team in scoring.  He's also locked up on a long-term deal that's looking like a bargain more and more by the day; he has four years remaining on his contract after this one at a $6MM AAV.  His ability to help carry a line could make their attack even more dangerous when they get back to full health in the coming weeks.
What would the Penguins be even more thankful for?
Simply put, at this point, they'd be thrilled if no one else got hurt the rest of the way.  Beyond that, they'd be really thankful if Alex Galchenyuk became more of a productive player.  Despite having a reasonable track record of offensive success and plenty of opportunities to play up in the lineup with so many others out, the 25-year-old has struggled mightily this season and has just four goals in 29 games.  GM Jim Rutherford has already suggested that it may be tough to keep him in the lineup when everyone's healthy.  That's a bitter pill to swallow for someone that was a key part of the Phil Kessel trade over the summer.
With it being Galchenyuk's final year before unrestricted free agency, there's a lot at stake for him as well.  Instead of being a prime candidate to land a long-term contract, he's looking like a reclamation project at this point.  A strong second half would go a long way towards changing that while being a boon for Pittsburgh as well.
What should be on the Penguins' Holiday Wish List?
In the short term, getting Marcus Pettersson signed to an extension early in the New Year is something they want to get done and they haven't exactly hidden that.
Whenever that gets done, finding more cap flexibility may be something else that Rutherford is wishing for.  For starters, he always likes to try to make a big addition and creating more cap space would certainly make that possible.  Assuming their forward group gets healthy, an impact defender would be the ideal target.  Beyond that, with Murray and Jarry (among others) being in need of new contracts next summer, freeing up some room for bigger deals for them is something they may look to try to do over the next couple of months.
Photo courtesy of USA Today Sports Images.