With the holiday season wrapping up, PHR will continue its look at what teams are thankful for as we get closer to the halfway point. There also might be a few things your team would like down the road. We'll examine what's gone well in the early going and what could improve as the season rolls on for the St. Louis Blues.
What are the Blues most thankful for?
The strong goaltending they've received from Jordan Binnington and Jake Allen.  Despite finishing second in Calder Trophy voting and playing a key role in their Stanley Cup title, there were plenty of questions surrounding Binnington heading into the season.  His numbers aren't quite as good as they were a year ago but they're still above average which has been enough to silence a lot of those concerns.  Meanwhile, after a rough 2018-19 campaign, Allen has the best numbers of his career, albeit in more of a limited workload than he has been used to.  Combined, the two have put St. Louis in the top five in save percentage in the league which has helped them overcome the early injury to Vladimir Tarasenko.
Who are the Blues most thankful for?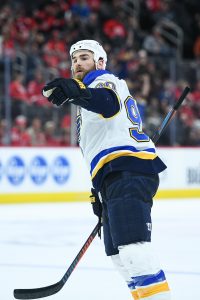 Before last season, the Blues were one of the many teams that were in need of a legitimate number one center.  They're not seeking that anymore.  The addition of Ryan O'Reilly back in the 2018 offseason from Buffalo has worked out swimmingly; he has given them an elite faceoff presence to use in all situations, a capable penalty killer, and a top offensive threat.  That they were able to get him without losing any core players off their roster was a very strong move for GM Doug Armstrong and considering he's signed for three more seasons after this one, it's going to pay dividends for a while yet.
What would the Blues be even more thankful for?
Finding common ground on a long-term contract extension with Alex Pietrangelo.  The team quickly got a deal done with Justin Faulk upon his acquisition and Brayden Schenn signed one shortly thereafter.  However, talks haven't gone as well with their captain as they're believed to be relatively apart on money.  The 29-year-old is actually on pace for a career year offensively as well which will only increase his asking price.  With nearly $74MM tied up in commitments for next season already, it's going to take some creative roster management to get something done (plus tagging rules will likely come into play) but they'd be more than pleased to get a contract in place first and figure the rest out later.
What should be on the Blues' Holiday Wish List?
Some certainty when it comes to Vladimir Tarasenko's return timeline.  If he's unable to return for the rest of the regular season, that would give them a chance to add a rental player or two and try to bolster their top six forward group and defensive depth.  However, if he is likely to return, they likely can't do anything at the deadline as they're pretty much capped out.
Beyond that, freeing up some cap room for next year certainly has to be on Armstrong's to-do list.  While a buyout this summer is possible (if not probable) to accommodate a potential Pietrangelo extension, finding a palatable trade to open some cap space or reduce the buyout obligation is something that they could try to do without significantly affecting their current roster.  Beyond that though, don't expect a lot of activity from them between now and the trade deadline.
Photo courtesy of USA Today Sports Images.