As the holiday season is upon us, PHR will continue its look at what teams are thankful for as we get closer to the halfway point. There also might be a few things your team would like down the road. We'll examine what's gone well in the early going and what could improve as the season rolls on for the Philadelphia Flyers.
What are the Flyers most thankful for?
It's been an up and down season for Philadelphia this year under head coach Alain Vigneault, yet the team remains right in the middle of the playoff race in the Metropolitan Division. Philadelphia is in fifth place in the division, but are just three points out of second place. The team currently boasts a 21-12-5 record and should be right in there.
The team is a mixture of veterans and quite a bit of young talent the team is trying to integrate into the team. In many ways, it's been a success, but with young players also comes inconsistency. If the Flyers can find some consistency, the team should be a top candidate to make the playoffs this year.
Who are the Flyers most thankful for?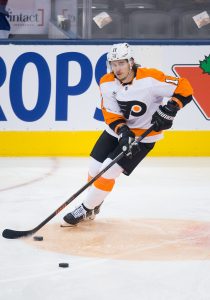 The team has seen quite a few players step up this year, but the team has seen forward Travis Konecny that that next step in his development. The 22-year-old forward has scored 24 goals for two straight years and he's heading for a similar number, but the rest of his game has opened up as he is two assists shy of his career high already after just 35 games and is heading for a career year. Konecny leads the team in scoring with 34 points as he is on a point-a-game pace, which could lead him to an 80-point season, which is critical for a team that is seeing some of their veterans take a step back in their production.
What would the Flyers be even more thankful for?
The continued improvement of their young players.
The team is loaded with young players, who Vigneault has worked hard to mix in with the team's core of veterans. Several of them have performed well. Second-year goaltender Carter Hart has seen some of his numbers get better this year. His GAA has improved from a 2.83 to a 2.43, while his save percentage has dropped from a .917 to a .910. Regardless, Hart is continuing to develop his game. Rookie Joel Farabee hasn't made the impact many were hoping for with just three goals and 12 points in 29 games, but has seen to settled in as a regular in the lineup. The team has gotten flashes from Morgan Frost as well, who has two goals and seven points in 18 contests, although he was recently assigned to Lehigh Valley. Even on defense, the team is getting solid play from Ivan Provorov and many of the young blueliners.
If they can continue to improve on their games, it could set Philadelphia to have a strong second half going into the playoffs.
What should be on the Flyers' Holiday Wish List?
The health of forward Oskar Lindblom. The 23-year-old was having a promising breakout season for the Flyers until he was diagnosed with Ewing's Sarcoma and will not return this season. The team hopes that he can get the proper treatment as quickly as possible and return to full health, regardless whether he ever takes the ice for the team again. However, consider his young age and recent success, the team is hoping that Lindblom can make a full recovery and be back on the ice, perhaps as soon as next season. However, the team has rallied around their young forward and put him and his health in the forefront.
Photo courtesy of USA Today Sports Images.