We're in the home stretch in our thankful series where PHR will continue its look at what teams are thankful for as the second half of the season gets underway.  We'll examine what has gone well in the first half and what each team may be looking for at the trade deadline.  Next up is the Vancouver Canucks.
What are the Canucks most thankful for?
The light at the end of the tunnel.  For years, they were a team that seemed to be perpetually spinning their wheels without really falling down far enough in the standings to land that franchise-changing prospect.  No one's saying that now.  Their new young core has rapidly emerged and all of a sudden, the light isn't so far away; they have their franchise pieces in place as two of their recent top picks in Elias Pettersson and Quinn Hughes have panned out quite nicely. They're right in the mix for a playoff spot and even if they do come up short, it appears that the darker days are behind them.
Who are the Canucks most thankful for?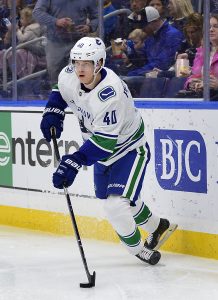 Franchise centers are really hard to find.  Teams can go decades between having them and they're extremely difficult (and expensive) to acquire.  Thanks to Pettersson, Vancouver doesn't have that problem.  The 21-year-old burst onto the scene last year and while he was initially expected to develop on the wing to ease him in, he was used down the middle right away and made an immediate impact in a top-six role while taking home the Calder Trophy.  This season, he has been even better.  He's under team control for five years after this one so even though he'll become a whole lot more expensive heading into 2021-22 when his entry-level deal is up, Pettersson gives them a legitimate franchise pivot to build around for the long haul.
What would the Canucks be even more thankful for?
More bang for their buck from their veterans.  Loui Eriksson is having a season to forget and has all of five points on the season with a $6MM AAV.  Jay Beagle has one goal for his $3MM price tag.  Micheal Ferland ($3.5MM) is currently injured but struggled when he was in the lineup.  Same goes for Brandon Sutter ($4.375MM).  They combine for nearly $17MM in spending and have ten goals between them on the year with Sutter having half of that total.  The lack of secondary scoring from their veterans could ultimately be the difference between them making or missing the playoffs and even one of them turning things around would give them a big boost, especially with their cap situation.  Speaking of which…
What should be on the Canucks' Wish List?
GM Jim Benning's top priority on the trade front at this point is simply trying to make a move that will allow him to actually trade for someone that can bolster their roster.  Vancouver has been using LTIR basically all season long and as a result, they're basically capped out of trading for anyone unless some of their injured players are ruled out for the season.  Finding a way to ship out an overpaid veteran without taking much money back would be a huge help for them.  Sven Baertschi could be a small trade chip but it all depends on how much they have to retain for it to make sense; if it's 50% or close to it, they may just be better off holding on.
Beyond that, Benning hasn't hidden his interest in getting an extension done with Jacob Markstrom.  He may come up a bit short of 60 appearances this season but he has established himself as a capable starter and as a result, he'll be in line for a sizable raise on his current $3.67MM price tag which is all the more reason to try to free up some extra cap space for next summer.
Photo courtesy of USA Today Sports Images.