The San Jose Sharks have announced that 2021 seventh-overall pick and team top prospect William Eklund underwent successful shoulder surgery yesterday to repair a torn labrum.
No other details, such as a recovery timeline, were included in the announcement, but since the timeline for torn labrums in the past has been in the four-to-six-month range, Eklund's season is unfortunately over. The Athletic's Corey Masisiak does note, though, that the Sharks expect Eklund to be ready for training camp in the fall.
This injury ends what has been an important season for Eklund. As mentioned in our piece covering his recall earlier this month, Eklund has taken significant strides in his development this season.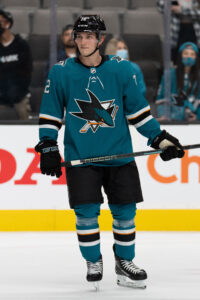 Last season playing in Sweden Eklund often looked deferential with the puck on his stick, and finished with just one goal to his name. This season, though, he has revamped his toolkit as a shooting threat and made himself a one-timer option on the San Jose Barracuda's powerplay.
In his debut season on North American ice Eklund finishes with 17 goals and 41 points in 54 games, as well as three points in eight NHL games, including an impressive first NHL goal.
Eklund's abilities as an attacker in transition have made him the Sharks' top prospect, and his development is crucially important to the future of the Sharks organization.
While this injury is certainly a setback, at the very least the Sharks can be thankful that the bulk of Eklund's recovery process will take place in the offseason, meaning his 2022-23 season has been left largely unaffected.
The loss of Eklund for the rest of the season comes as a major blow to the Barracuda, who need to win most of their remaining games to make the Calder Cup Playoffs. While it's not impossible that they find a way to get those wins, the loss of their second-highest scorer will make winning most of their final set of games a significantly taller task.
But for the Sharks organization as a whole, getting Eklund back to full health is likely a far more pressing priority than the rest of what has been a disappointing AHL campaign.
Photos courtesy of USA Today Sports Images