On the day that the Vegas Golden Knights introduced their new head coach to their fans, they also completed a major trade. The Montreal Canadiens and Golden Knights have each announced a deal: Shea Weber for Evgenii Dadonov. The Athletic's Pierre LeBrun confirmed that neither player is being traded with salary retained.
While this trade is a one-for-one deal, it's anything but simple. Weber, the Canadiens' captain, is effectively retired due to his injuries and is not expected to ever suit up for another NHL game. One might wonder, then, why the Golden Knights would be interested in acquiring him. But the motivation for the Golden Knights is simple: because Weber is expected to stay on long-term injured reserve for the remainder of the four years left on his contract, his $7.8MM cap hit for each of those years effectively does not count against Vegas' cap. LTIR is quite a bit more complicated than that in reality, but in easily explainable terms that's basically what will happen.
So, the Golden Knights rid themselves of Dadonov's $5MM cap hit, a deal they already attempted to trade at the deadline, in exchange for Weber's contract that must be placed on LTIR. Teams using LTIR cannot accumulate cap space over the course of a season, meaning the Golden Knights will be harder-pressed to go on a trade deadline spending spree like the New York Rangers were able to do this year thanks to their stockpile of accumulated cap space. But given Vegas' aggressive use of LTIR in the past it's likely the team is making this deal assuming they would be using LTIR already, regardless of Weber's presence.
With all that explained, this trade helps Vegas alleviate the cap crunch that had the potential to wreck their offseason. We previously covered how the Golden Knights were actually above the salary cap, and urgently needed to find a way to clear space. With this trade, the Golden Knights commit themselves to being an "LTIR team" for the remainder of Weber's contract in order to rid themselves of Dadonov's cap hit without needing to trade any picks or prospects.
For the Canadiens, GM Kent Hughes had already expressed an interest in moving Weber's deal, indicating that they were close to a deal with the Arizona Coyotes at the deadline. The Coyotes ended up acquiring Bryan Little's contract instead, nixing the possibility of that trade. Now, Hughes has found another avenue to trade Weber's contract, and instead of needing to trade prospects or draft picks like the Jets needed to trade Little to Arizona, the Canadiens simply needed to take on Dadonov's unwanted cap hit to facilitate the deal.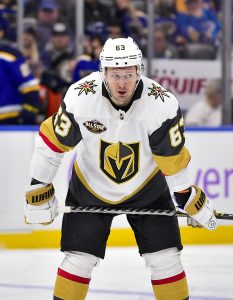 In Dadonov, the Canadiens acquire a player with one year left on his contract at a $5MM cap hit. Dadonov was one of Vegas' better players last year, riding a scorching final two months of the season to a 20-goal, 43-point campaign. The Canadiens could definitely opt to play Dadonov next year to help their scoring, but it's also possible that their front office chooses to dangle Dadonov to other teams looking for a scorer. Of course, if Dadonov could be easily dealt for a quality return, the Golden Knights would likely have done that themselves. But the Canadiens do have the option to retain 50% of Dadonov's deal to make him a more attractive asset, something the Golden Knights would likely not have been able to do.
In a world where many look to find a "winner" and a "loser" of every trade, this deal looks like one that should reasonably benefit both sides. The Golden Knights get something they desperately desire: cap relief, and at a cost that does not siphon even more assets from their depleted stock of draft picks and prospects. The Canadiens, depending on the health of Carey Price, of course, make it so they no longer need to utilize LTIR to remain cap compliant, and they add a player who can help their forward corps for the one year remaining on his deal.
Photo courtesy of USA Today Sports Images