Heading into the 2018-19 season, many questions were raised about the goaltending situation for the Carolina Hurricanes. The team had watched Scott Darling struggle mightily in the first year of his four-year $16.6MM deal, and made moves to insulate him with other veteran goaltenders. Petr Mrazek was signed to a one-year $1.5MM deal after he failed to receive a qualifying offer from the Philadelphia Flyers, and just before the season began the team claimed veteran backup Curtis McElhinney from the Toronto Maple Leafs. That duo would end up being the team's full-time tandem during the season after Darling was quickly buried in the minor leagues.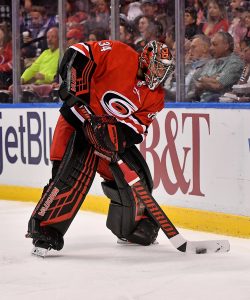 In the playoffs, Mrazek would start and play well for the team before eventually relinquishing the role to McElhinney. Both men weren't good enough to stop the bleeding against the powerhouse Boston Bruins, but their performance in getting the Hurricanes to an Eastern Conference Final was still admirable. Unfortunately, both are scheduled for unrestricted free agency this summer. It's not clear what their camps are thinking, but Hurricanes GM Don Waddell made his intentions clear today when he told reporters including Chip Alexander of the Raleigh News & Observer that Carolina's goal was to bring back both Mrazek and McElhinney next season. Waddell also said there was no decision yet on whether to buy out Darling's contract, despite the recent reports.
Trying to retain the pair makes sense on the surface. Mrazek posted a .914 save percentage in the regular season and went 23-14-3 for the team, while McElhinney continued his late-career renaissance with a 20-11-2 record and .912 save percentage. Both of those were leagues better than Darling has been since joining Carolina, and gave the team a reliable backbone in their Stanley Cup chase.
Still, they certainly also bring some risk. McElhinney will turn 36 on Thursday and has never played more than 33 games in a single season, which he did this year. Though he has been excellent for both Toronto and Carolina, the entire body of work—which also includes stops in Columbus, Calgary, Anaheim, Ottawa and Phoenix—is less attractive. Mrazek meanwhile has been one of the most frustratingly inconsistent goaltenders in the league since debuting in 2013 for the Detroit Red Wings. Showing flashes of absolute brilliance mixed with long stretches of poor play, committing long-term to him is only possible if you believe he has turned a corner. His overall performance in the playoffs, in which he posted just an .894 save percentage, should at least make the Hurricanes question that.
Obviously, either player could also decide to wait until July 1st and see what other offers they receive. Carolina also has young goaltender Alex Nedeljkovic waiting in the wings, fresh off a Goaltender of the Year award in the AHL. Nedeljkovic posted a .916 for the powerhouse Charlotte Checkers, and has a 6-2 record in the postseason. If the team can't retain one or both of their free agent goaltenders, Nedeljokic could potentially step into an NHL role next season, though goaltending depth is obviously extremely important for a team with their eyes on the Stanley Cup.
Photo courtesy of USA Today Sports Images