Now that the draft lottery gave the Chicago Blackhawks some clarity on their draft pick situation, Chicago's front office's focus can now shift to their offseason plans more earnestly. With new GM Kyle Davidson set to pursue a full rebuild of the team, there are many items on his offseason to-do list that he'll need to consider. Perhaps the most immediately pressing on-ice issue is the situation of the team's goaltending.
The Blackhawks were not a strong team this season, and the performances of their goalies reflected that, especially after the mid-season trade of Marc-Andre Fleury. The Blackhawks used four goalies this season, and Fleury's .908 save percentage in 45 games made him the only member of the four-person group to post above a .900 mark. Kevin Lankinen regressed from his strong rookie-season form and turned in an .891 save percentage, 3.50 goals-against-average performance in 32 games of work. That regression left question marks about his future in Chicago. Lankinen is a pending unrestricted free agent, and Mark Lazerus and Scott Powers of The Athletic (subscription link) reported that a source said that Lankinen and the Blackhawks "have not begun negotiations" on a potential contract extension.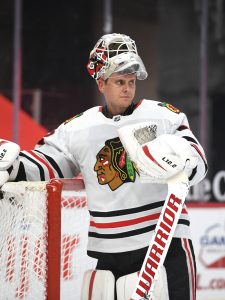 With that report in mind, an important question is brought up: If Davidson views next season as one where player development is prioritized over winning as many games as possible, (and that certainly seems to be the case) is trusting Lankinen the best route to take? The Blackhawks are a team looking to get younger and develop their young players. Maintaining young players' confidence levels is an important aspect of player development, and there are few things that can damage a young team's confidence in a single game more than unreliable goaltending, especially for young defensemen.
When asked about the team's goaltending situation, Davidson seemed to acknowledge that looking to bring in outside help might be the best option for his team to weather what most expect to be a difficult 2022-23 season. Davidson said:
We definitely need to bring some NHL contracts in. Kevin and Collin are part of that discussion, they're not out of that candidate list, but there's some players that we'll look at in free agency and see which direction we want to go, not ruling out the trade market either.
This summer's crop of free-agent goaltenders holds some promise for the team, but their direction as an openly rebuilding club could stand in the way of any major acquisitions. Headliners Darcy Kuemper and Jack Campbell seem unlikely for that reason, and a reunion with Fleury is also highly unlikely. Perhaps Davidson could go in a direction similar to Detroit GM Steve Yzerman last summer, when Yzerman pounced on the opportunity to acquire a young goalie coming off of a breakout season, landing 2021 Calder Finalist Alex Nedeljkovic from the Hurricanes. There are some intriguing breakout names on the market for Davidson to pursue, such as St. Louis' Ville Husso and Dallas' Scott Wedgewood.
Regardless of whatever direction they choose to go in net, it's clear that the Blackhawks are unsettled at the game's most important position. Given all of the factors that go into choosing a goaltender, though, it's likely that Davidson's choice of netminder will help clarify exactly what his front office's intentions are for the near future of this team.
Pictures courtesy of USA Today Sports Images