Perhaps the first true blockbuster deal of the offseason has finally materialized. TSN's Darren Dreger reports the Los Angeles Kings are acquiring center Pierre-Luc Dubois from the Winnipeg Jets, who receive a significant return in Alex Iafallo, Gabriel Vilardi, Rasmus Kupari, and a second-round draft pick in 2024, originally belonging to the Montreal Canadiens. Per NorthStar Bets' Chris Johnston, Dubois is signing an eight-year extension (technically with Winnipeg before the trade) worth $8.5MM per season.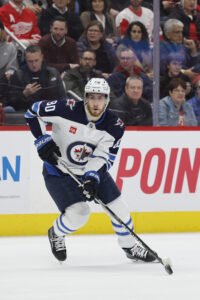 Dubois arrived in Winnipeg over two years ago in a star-for-star trade that saw Patrik Laine head to the Columbus Blue Jackets. The two players were selected third and second overall, respectively, in the 2016 NHL Entry Draft. It looked like a rather disappointing trade for both sides at the time – Dubois had just 20 points in 41 games down the stretch with the Jets in 2020-21 and played a decidedly middle-six role, barely averaging over 15 minutes per game.
Things took a dramatic turn for the better over the following two seasons, though. Fresh off back-to-back 60-point seasons for the first time in his career, Dubois is now entering his prime and much closer to the player everyone thought he could be. He won't impress anyone defensively, but he's a very high-end play driver and is a good weapon on the power play.
It's a fresh start for Dubois on the West Coast. He's long been posturing to get himself traded to a larger market, although most had assumed until recent weeks that it would be the Montreal Canadiens. With Winnipeg looking to retool on the fly, though, the Kings' package of NHL-ready talent was a much more appealing return.
That being said, this is a lot to give up (and an awfully rich extension) for Dubois, who's a good top-six center but not a bonafide first-line pivot. Vilardi, the 11th overall pick in 2017, finally broke out this season in a big way after multiple serious injuries derailed his development. The 23-year-old notched 41 points in 63 games, played a great possession game, and could very well replace Dubois' role in the Jets lineup on his own. With the addition of Iafallo, who's a very strong middle-six two-way winger, it seems those two on their own might have been enough value to land Dubois. He had 36 points in 59 games last year, on pace for a career-high of 50 in a full season.
Add in Kupari, who doesn't have a terribly high ceiling but is an established NHLer who appeared in 66 regular-season games and six playoff games this year, and Winnipeg's got three fresh pieces to help kickstart a significant retool. The 2024 second-round pick is also a very nice addition for the Jets – it finds its way to them via the Canadiens and Coyotes, switching hands in the Christian Dvorak and Sean Durzi trades.
Photo courtesy of USA Today Sports Images
The Athletic's Murat Ates was first to report the package was in place.