With the offseason in full swing, it's time to examine what each squad will need to accomplish over the coming weeks.  Last up is a look at the Avalanche.
Generally speaking, a team that wins the Stanley Cup shouldn't need to make a whole lot of changes.  Evidently, that's not the case in Colorado as they have a new starting goalie (Alexandar Georgiev) and a new GM (Chris MacFarland with Joe Sakic moving up a rung) in just a couple of weeks after beating Tampa Bay.  MacFarland will have a few items to check off in the coming days as well.
Replace Defensive Depth
Sakic added defenseman Josh Manson at the deadline as a rental and while he didn't have the exact same role he had in Anaheim (his minutes were more limited), he was a key role player in the postseason.  He's likely to become an unrestricted free agent and there's a decent chance he'll move on.  Ryan Murray and Jack Johnson, who signed with Colorado last summer, are also set to become unrestricted free agents tomorrow and certainly aren't locks to return.
That leaves Colorado with six blueliners that saw regular action last season and one of those (Kurtis MacDermid) is more of a winger than a defenseman at this point.  Another, Bowen Byram, has shown plenty of promise but has dealt with multiple concussions in his young career and had to take a step back to recover last season.  While the Avs will certainly be hoping that he'll be able to stay healthy, expecting that to be the case would carry some risks.
With that in mind, MacFarland will need to add (or re-sign) at least one defenseman if not two to stay on the safe side.  These players likely won't command long-term deals (especially since they'll want to keep some flexibility for the future) and will be earmarked for the third pairing but that extra depth will be necessary to hedge against in-season injuries.  Fortunately for Colorado, while there aren't many impact defenders available on the open market, there are several depth ones that are in the range that they're going to want to pay.
MacKinnon Extension Talks
It's quite possible that the biggest item on Colorado's list this summer is to do something that won't even affect their team for next season.  Nathan MacKinnon will officially enter the final year of his contract on Wednesday, making him eligible to sign a contract extension.  Prior to stepping aside as GM, Sakic recently indicated his intention of trying to get a deal done with his captain and there's little reason to think that will change with MacFarland at the helm.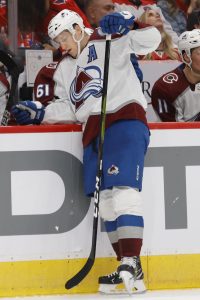 It sounds crazy to think now but at the time the 26-year-old signed his current seven-year, $44.1MM deal, there was some risk attached to it.  While MacKinnon had shown flashes of offensive dominance, he had also failed to reach 25 goals in a single season.  They were paying up with the expectation that he'd continue to improve and provide extra value by the end of the contract.  It's safe to say he has done that and more as only two players in the league have more points than MacKinnon over the last five years.  (Both of them play in Edmonton if you're wondering who they are.)
While the salary cap has flattened out in recent years and still has another couple of years on its current trajectory, MacKinnon is in line for a substantial raise on his next contract.  Connor McDavid's deal represented 16.67% of the Upper Limit when it was signed; that rate applied to the current cap would push MacKinnon just past $13.75MM.  Granted, McDavid has been the better scorer but it's not out of the realm of possibility that MacKinnon checks in around 15% of the cap which would put his next contract around the same $12.5MM AAV that McDavid currently has now.  It's a price tag Colorado shouldn't be balking at paying either as if he was to somehow hit the open market next summer, several teams would be going after him with that type of money.
At this point, there isn't a lot to gain from waiting while there's value in having certainty about costs moving forward as Colorado plans other moves.  Accordingly, expect a push to get something done on this front quickly.
Re-Sign Lehkonen
While Manson and some of their other late acquisitions were pending unrestricted free agents, that wasn't the case for winger Artturi Lehkonen.  The extra year of team control was enough for Sakic to justify parting with one of their top prospects in Justin Barron to get him from Montreal at the trade deadline.  He certainly made an immediate impact with his new team, logging over 16 minutes a game in their middle six down the stretch and then scored two critical goals in the playoffs with the series-winner against Edmonton and the Cup-winner against the Lightning.
Lehkonen has arbitration rights in his final year of RFA eligibility so expect Colorado to take a run at signing him to a long-term deal that buys out his prime UFA years.  Such a move would push his AAV past the $4MM mark even though his highest point total during the regular season is 38 which he put up this year.  It's a high price to pay for a winger that isn't going to consistently light the lamp but his versatility and penalty killing ability made him an integral part of their team in the playoffs and it's unlikely they will give him a chance to move on anytime soon.
Replace Outgoing Free Agent Forwards
While Colorado managed to get one prominent free agent off the table on Monday when they signed winger Valeri Nichushkin to an eight-year deal, they're still set to lose a pair of key free agent forwards in Nazem Kadri and Andre Burakovsky.  Knowing the money that they're going to be paying MacKinnon in 2023-24, they know they're not going to be able to keep Kadri which creates a big opening down the middle.  While Alex Newhook has shown some promise, he's not really for full-time duty in the top six yet and while J.T. Compher can hold his own when covering for injuries, he's not the preferred option to take Kadri's spot either.  Adding a proven veteran center on a short-term contract would be huge for the Avalanche.
Then there's Burakovsky whose 61-point campaign likely priced himself out of what Colorado can afford with Lehkonen effectively taking his spot and role on the roster.  But another winger that can at least slot in on the third line with an ability to move up when needed would certainly help lengthen their attack.  The Avs have around $14MM to spend this summer with Lehkonen set to take up a sizable chunk of that.  Between a new center to replace Kadri and some defensive depth, there might be enough left for that type of winger to help keep one of the top attacks in the NHL three lines deep.
Photo courtesy of USA Today Sports Images.  Contract information courtesy of CapFriendly.