With the offseason in full swing, it's time to examine what each squad will need to accomplish over the coming weeks.  Next up is a look at the Lightning.
Tampa Bay came close to making it three straight Stanley Cup titles before falling to Colorado in the Final last month.  With the majority of their core still intact and their biggest offseason move already made when they sent Ryan McDonagh to Nashville to free up cap space, GM Julien BriseBois' to-do list for the rest of the summer is fairly simple.
Re-Sign Or Replace Rutta
Part of the reason for the McDonagh deal was to free up cap space to re-sign two of their pending free agents.  One of those is defenseman Jan Rutta.  The 31-year-old has been a serviceable depth player for the Lightning over the last four seasons and played a regular role for the first time in 2021-22, suiting up in a career-best 76 games while chipping in with 18 points.  He's coming off a two-year deal with a $1.3MM cap hit and after showing he can handle a full-time spot, he should be able to beat that on the open market.
While Tampa Bay would certainly like to keep him around and have had discussions on a new deal, BriseBois also has to consider that McDonagh's minutes need to be replaced.  Rutta held his own playing 16 minutes a game but McDonagh logged 22.  Can Tampa Bay fill those extra minutes internally with someone like Cal Foote or will they need someone that's capable of taking on a bigger role?  While BriseBois has stated his intention to keep and work with Philippe Myers (who came over in the McDonagh swap), it's unlikely that they can count on much from him after the way this past season went.  If Rutta and Foote can't cover bigger roles on the third pairing to help offset the loss of McDonagh, BriseBois may have to go for a more prominent blueliner which would certainly take them out of the running for their other UFA of note.
Re-Sign Or Replace Palat
That other UFA is Ondrej Palat.  The winger has been a regular in Tampa Bay's lineup for most of the last decade, spending a lot of that time as a fixture in their top six.  Along the way, he has become a consistent secondary scorer, notching at least 15 goals in seven of the last nine years and dealt with injury trouble in the two he didn't.  That type of consistency is very valuable to teams and an impressive showing in the playoffs that saw Palat finish second to only Nikita Kucherov in scoring.  That certainly bolsters his value as we approach the opening of free agency on Wednesday.  That's good news for him but less so for the Lightning.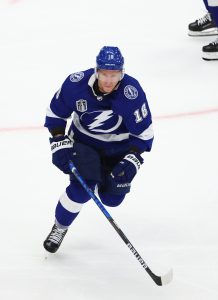 The 31-year-old is coming off a contract that saw him make an average of $5.3MM over the past five years.  If he gets to the open market, a similar price at a similar term is doable.  That's one that Tampa Bay can't afford, especially knowing they have to keep or replace Rutta as well.  Even with Brent Seabrook's LTIR space, there isn't enough money for Palat to receive market value and still keep or re-place Rutta.  A team-friendly contract is always an option – several have taken a bit less to re-sign in previous years – but with this likely being Palat's last chance at a big contract, it would certainly be understandable if he wants to see what his other options might be.
If Palat winds up going elsewhere and they need to find a replacement, it wouldn't be surprising if BriseBois looked for someone on a one-year deal.  With several key pieces in need of new contracts soon, a short-term contract would allow give them a boost now and maintain a little bit of flexibility for the 2022-23 offseason.  There will be players that don't like what they have for long-term offers and would certainly view the Lightning as a favorable spot for a 'pillow' contract and going that route could give Tampa Bay a capable replacement without needing as long of a commitment.
Extension Talks
Tampa Bay has basically exclusively used short-term bridge contracts with their restricted free agents in recent years.  The reason is certainly understandable as they used the lower cost of those contracts to keep their core intact and with two Stanley Cups and a Prince of Wales Trophy in the last three years, it's hard to say they made the wrong choice.  Going that way eventually has its consequences but with that type of recent success they've had, it couldn't have gone much better.
But the consequences of that approach are only a year away.  Defensemen Mikhail Sergachev and Erik Cernak along with centers Anthony Cirelli and Ross Colton are all about to enter the final year of their respective bridge deals.  All four will have arbitration eligibility next summer.  Combined, they'll have a cap hit of $13.675MM next season.  They will cost considerably more than that in 2023-24, likely surpassing the $20MM mark.  That's going to result in the departure of another core player or two no matter what and BriseBois knows that.
While the Lightning could wait to work on these next summer, that's a lot of big-ticket deals to sign in a short period of time and with arbitration hearings occurring after the bulk of unrestricted free agents have signed, getting into July with even a couple of these still pending wouldn't be ideal.  Having the knowledge of what those players are going to cost before next June and July would be great for planning purposes while also giving those players certainly moving forward.  Are they going to get all of them signed now?  Probably not but the more they can finalize this summer, the easier it should be next summer.
Photo courtesy of USA Today Sports Images.  Contract information courtesy of CapFriendly.