With the offseason in full swing, it's time to examine what each squad will need to accomplish over the coming months.  Next up is a look at the Flames.
After missing the playoffs in 2020-21, Calgary had a bounce-back season as they finished first in the Pacific Division and got past Dallas in the opening round of the playoffs before falling to Edmonton.  The Flames were among the top-scoring teams in the league and allowed the third-fewest goals which is a great spot to be in but GM Brad Treliving has some work to do to keep the core intact.
Re-Sign Gaudreau
Let's start with a big one.  Johnny Gaudreau has been a cornerstone player for Calgary for the past eight seasons.  After a bit of a quieter showing in 2020-21, he rebounded in a big way, posting career highs across the board while finishing tied for second in league scoring with 115 points; only Edmonton's Connor McDavid had more.  If you put any stock into plus/minus, Gaudreau led the league in that category with a whopping +64 mark; for context, he was only +21 for his career heading into the year.  All of this has resulted in the 28-year-old being set to be the top free agent on the open market later this month.
That is, unless Calgary is able to stop him from getting there.  But to do so, it's going to cost a pretty penny.  You can be sure that Gaudreau's camp is going to point to the contract that Artemi Panarin signed with the Rangers (seven years, $11.643MM) as a valid comparable.  Considering Gaudreau has the longer track record and a more impressive platform season, it's certainly an understandable target to strive for although he is a little older than Panarin was at the time.  Clearly, that's not a price the Flames have been willing to meet since an extension isn't in place yet.
At some point, Treliving will have to focus on a Plan B as having this get to July 13th without a resolution would certainly be risky.  If a new deal can't be done by the draft, the Flames may have to entertain the possibility of flipping Gaudreau's rights and begin shopping around for a replacement.  There's still some time to work out an agreement but it's something that they will need to accomplish sooner rather than later.
Re-Sign RFAs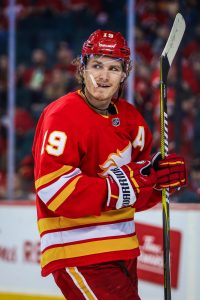 On top of needing to re-sign Gaudreau, fellow winger Brady Tkachuk is also in need of a new contract and it's also going to be an expensive one.  The 24-year-old is a year away from UFA eligibility, has salary arbitration rights, and is owed a qualifying offer of $9MM.  Tkachuk is also coming off of a career year, one that saw him surpass the 40-goal and 100-point marks for the first time.  That gives him plenty of leverage in discussions as if he doesn't like what Calgary is offering, he can simply accept the qualifying offer or try his hand in arbitration to try to get a bit more than his qualifier.
Of course, a lot of what the Flames can do here is dependent on what happens with Gaudreau.  Both players could be in line for $10MM or so on their next contracts and while they have a little over $26MM in cap space at the moment, they also have to sign six or seven forwards and three defensemen with that money.  If those two take up that much of the pie, that doesn't leave much room for anyone else.
Speaking of anyone else, the Flames have another winger that's in line for a sizable raise in Andrew Mangiapane.  He's also coming off a career year of his own as he put up 35 goals and 20 assists in 82 games.  Prior to that showing, his previous benchmark for points was 32.  Like Tkachuk, the 26-year-old is also arbitration-eligible and a year away from UFA eligibility.  Mangiapane is owed a $2.45MM qualifying offer but could make a case to double that in a hearing.  While he's someone that they'd certainly like to keep around, he also might be someone they have to move if the price tag gets too high.
The other RFA of note this summer is blueliner Oliver Kylington.  He doesn't have the track record to command the type of money that the others on this list do but after being a depth player for the first few years of his career, the 25-year-old was a regular, collecting 33 points in 71 games while averaging over 18 minutes a night.  Those are elements that look good in an arbitration filing so he will be in line for a sizable raise after making the league minimum in 2021-22; three or four times that amount could certainly be doable, further adding stress to their cap situation.
Add Defensive Depth
Right now, Calgary has just three regular defensemen under contract for next season with Kylington's eventual signing bringing them to four.  Juuso Valimaki is signed for $1.55MM but spent the majority of the season in the minors so it's fair to question whether he's part of their plans for next season.  It's quite possible that he's shopped around to try to free up a little more salary cap space.
Meanwhile, veterans Nikita Zadorov, Erik Gudbranson, and Michael Stone are all set to hit the open market later this month with it seeming quite unlikely that Zadorov will return.  Gudbranson could be an option depending on what happens with their other free agents while Stone could return at or near the league minimum once again.  Even if he does, Treliving is going to need to add some defensive depth.
Connor Mackey is a candidate to at least be on the roster on a full-time basis so that's one spot but the Flames are going to need to add at least one external blueliner that's capable of playing on the third pairing and if they don't have plans to use Valimaki as a regular next season, they're going to need to look for two of them.  Quality role players on the back end can generate strong markets but Treliving is going to have to try to find some bargains.
Add Center Insurance
For several years, Sean Monahan was a fixture at the top of the lineup for Calgary.  However, his play has steadily declined over the last couple of seasons with injuries starting to take their toll.  He underwent hip surgery for the second straight year back in April which puts his availability for the start of next season in question.  Even if he can return, it will be difficult for the Flames to count on much production from him.  On top of that, the injury will make it next to impossible to buy out the final year of his deal, one that carries a $6.375MM AAV as he'd need to be medically cleared.  That doesn't seem likely to happen by the close of the first buyout window next week.
Meanwhile, the extra depth players that Treliving brought in last season are all set to test unrestricted free agency in trade deadline acquisitions Calle Jarnkrok and Ryan Carpenter while Trevor Lewis is also set to walk.  Between that and the injury to Monahan, what was once a positional strength now has some questions aside from Elias Lindholm and Mikael Backlund.
Internally, Dillon Dube can play down the middle but he has been used predominantly on the wing in his career and at this point, he probably isn't a full-time option.  Adam Ruzicka played in 28 games last season but is he ready for a full-time spot in the lineup and if so, can he play on the third line or is he better suited for the fourth?
As a result, the Flames could stand to add a pair of middlemen, one that can play on the third line behind Lindholm and Backlund and a depth center that can kill penalties in the mold of Lewis, Carpenter, or Brad Richardson (who was with the team for most of the year before finishing up with Vancouver).  The latter won't be too hard to find but the third-line option will be trickier, especially if there's an expectation that Monahan will be able to return at some point.  Assuming that's the case, they won't be able to rely on him being on LTIR and spend his cap hit on a replacement.
There's a sequence of events that needs to happen for Calgary in the coming weeks and each of these ties back to a central theme, the salary cap.  Treliving will need to get creative to keep as much of his core together as possible while still managing to fill the holes that will need to be addressed this summer.
Photo courtesy of USA Today Sports Images.  Contract information courtesy of CapFriendly.