With the offseason in full swing, it's time to examine what each squad will need to accomplish over the coming months.  Next up is a look at the Panthers.
In some ways, it was a year of success for Florida.  They overcame an early-season coaching change with Andrew Brunette helping to lead the Panthers to the Presidents' Trophy.  However, they were then swept by Tampa Bay in the second round, resulting in GM Bill Zito making another coaching change, bringing in former Jets bench boss Paul Maurice.  With that change done, his focus can shift to the roster which will need some work despite finishing first in the regular season.
Add Defensive Help
Back at the trade deadline, Zito opted to prioritize bolstering his back end before getting in on the Claude Giroux sweepstakes.  Beyond Aaron Ekblad, most of Florida's defenders are players that have largely gone under the radar with players like MacKenzie Weegar, Brandon Montour, and Gustav Forsling rounding out their top four.  The offensive production they provided was certainly top-notch but Zito wanted a defensive focus.
That led to them paying a fairly high price tag to pick up Ben Chiarot a few days before the trade deadline with an eye on giving them some more grit and a shutdown presence.  Then, when Ekblad went down, freeing up some LTIR room which opened up the ability to add Robert Hagg, another physical blueliner.
But both of those players aren't expected back this summer as they're likely to move on in free agency unless something changes with their salary cap situation.  As a result, the deficiencies that Zito identified still exist.  As a result, he will likely be looking to add in at least a shutdown defender that can kill penalties and take some of the defensive pressure off Ekblad.
In an ideal world, that player will also come with some team control.  Weegar and Radko Gudas are entering the final year of their contracts with Forsling and Montour up a year later.  With a prospect pool that has taken some hits and is missing several high draft picks in the years to come, a bit of longer-term stability defensively would certainly be beneficial.
Huberdeau Extension Talks
As far as picking the ideal timing for a career year, winger Jonathan Huberdeau certainly did just that.  The 29-year-old led the NHL in assists this past season with 85 while finishing tied with Johnny Gaudreau for second in the league in points with 115.  On July 13th when the new league year starts, Huberdeau will be eligible for a contract extension and he certainly made a strong case for a very pricey one.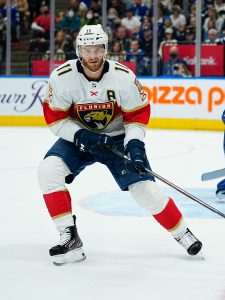 Internally, it stands to reason that Zito will try to cap Huberdeau's price tag at or slightly below the $10MM given to Aleksander Barkov, whose eight-year, $80MM extension signed last year will begin next season.  Even in a flat cap environment, two players with an AAV in that range can be manageable.
Meanwhile, Huberdeau's camp will certainly be keeping an eye on what happens with Gaudreau later this month.  The Calgary winger will hit the open market this summer and is only two months older than Gaudreau.  Whatever contract he winds up with will serve as a strong comparable, especially if an extension is worked out this summer.
With one year left on his deal, Florida doesn't have to do an extension as soon as he's eligible; Barkov's extension came just before the start of the regular season.  From a roster planning standpoint, the sooner a contract gets done, the better which is why Zito will likely push to try to get something done as close to the 13th as possible but this is something that could just as easily drag out into next season as well.
Find A Taker For Bobrovsky
While teams can find a way to make the cap work with two players making $10MM, it's a lot harder with three.  Sergei Bobrovsky also carries a $10MM AAV and if Huberdeau does wind up signing for that amount on his next contract, Florida's cap situation becomes a whole lot harder to manage.  It's a simple process of elimination as to which one goes.  It's certainly not going to be Barkov and if they re-sign Huberdeau, it's not to turn around and move him.  That leaves Bobrovsky.
The 33-year-old had a bit of a bounce-back year in 2021-22, posting a .913 SV% and a 2.67 GAA in 54 games.  Those numbers aren't elite by any stretch but they were a sizable improvement compared to his first two seasons.  Unfortunately for the Panthers, that type of performance isn't worth $10MM, not even close.
Between this, their cap space situation, and the fact that Spencer Knight is clearly Florida's goalie of the future, it's clear that Zito is going to have to retain a sizable chunk of Bobrovsky's cap hit or take a fairly hefty contract back in order to facilitate a move.  They're also going to have to work with the veteran to find a suitable home as Bobrovsky, who still has four years left on his deal, also has a no-move clause.
It's possible that Florida can afford to bring Bobrovsky back for next season but it will come at the expense of adding to the back end or a veteran up front.  Knight will need to start playing more so while Bobrovsky is someone they could keep around, it doesn't mean they should.  His name is likely to be in trade speculation as a result.
Free Up Cap Space
This one certainly involves Bobrovsky but he won't be the only trade candidate.  As things stand, the Panthers have around $4MM in cap space for four or five players thanks to the new contracts for Barkov and Carter Verhaeghe and a $3MM increase in dead cap on Keith Yandle's buyout.  That's doable but it would just be depth additions, not impact ones.  If they want to add an impact piece or have a shot at re-signing someone like winger Mason Marchment (or Giroux, who will cost considerably more), they need to clear some salary.
Florida will get some short-term cap relief with Anthony Duclair starting the year on LTIR.  However, since the winger is expected to return from his Achilles tear, they'll need to have cap space to activate him midseason.  That means they can utilize his LTIR to call up a player or two from the minors and carry a full roster but they won't be able to spend that on a more prominent replacement.
Winger Patric Hornqvist ($5.3MM) and Gudas ($2.5MM) each have one year left on their contracts and have roles that can be filled by cheaper players so at least one of those two could be on the move to free up some cap flexibility.  Hornqvist has an eight-team no-trade clause while Gudas doesn't have any form of trade protection.  Both players have played useful roles for the Panthers but the value of some extra cap space may very well outweigh the benefits of keeping one or both of them in the lineup for next season.
Photo courtesy of USA Today Sports Images.  Contract information courtesy of CapFriendly.