With the offseason in full swing aside from the two teams in the Stanley Cup Final, it's time to examine what each squad will need to accomplish over the coming months.  Next up is a look at the Stars.
The Stars were able to secure the top Wild Card spot in the West this season, allowing them to avoid Colorado in the opening round.  They were close to pulling off the upset against Calgary but came up just short, resulting in a significant move behind the bench with Peter DeBoer taking over for Rick Bowness; the rest of the staff will need to be filled out.  In terms of their on-ice personnel, GM Jim Nill has some work to do this summer.
Re-Sign Or Replace Klingberg
John Klingberg's contract situation is something that loomed over the club all season long.  While both sides have expressed a desire for him to stick around, they didn't appear to be close during the regular season which led to what ranged from either a full trade request to Klingberg being extremely upset about the state of negotiations, depending on various reports.  At one point, his camp was given permission to speak to other teams which resulted in plenty of trade speculation leading up to the trade deadline although a trade obviously didn't happen.
Now, the contractual situation jumps back to the forefront.  Klingberg was believed to be seeking a max-term eight-year deal with reports putting the AAV around the $8MM mark which would be nearly double the $4.25MM he had been getting for the past seven seasons.  The 29-year-old certainly has a strong case for the big jump as well.  He's coming off a year where he collected 47 points in 74 games while only seven blueliners have more points than him over his eight-year NHL career.  He's going to be one of the top players to get to the open market this summer.
Accordingly, Nill has a big decision to make.  Does he move close enough to Klingberg's asking price at the eight-year term (which may not be too enticing since he turns 30 in August) or does he make other plans to replace him?  With some other big contracts on the horizon (more on those shortly), can they afford another pricey long-term commitment or would they be better off trying to sign or acquire a cheaper, shorter-term replacement?  Nill only has a couple more weeks to ponder that decision.
New Deal For Robertson
After spending most of his first professional season in the minors, Jason Robertson has quickly emerged as a legitimate top winger and in his first full year in the NHL, he provided Dallas with 41 goals (including a league-high 11 game-winners) and 79 points.  With the 22-year-old hitting restricted free agency for the first time this summer, he's in line for a significant raise compared to his rookie deal.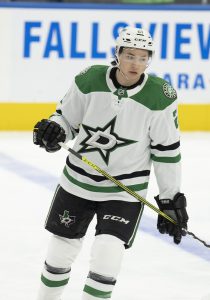 Nill undoubtedly would like to sign Robertson to a long-term contract that buys out a few UFA-eligible seasons but that will be a tough task even with nearly $20MM in cap space simply because of who else needs to sign.  A long-term contract could jump into the $9MM range based on recent comparables including Minnesota's Kirill Kaprizov (five years, $45MM) which would eat up about half of their cap space with that one and could prohibit them from keeping Klingberg in the fold or finding a similar replacement.  On top of that, Nill acknowledged earlier this month that the anticipated jump in the Upper Limit of the cap a couple of years from now could push prominent RFAs like Robertson into preferring a short-term deal.
With that in mind, a bridge contract, one that could free up enough cap room to try to take care of another pending free agent, seems like the probable outcome.  But even that will carry a high price tag.  Recent comparable players would put a deal for him in the $7MM range so the net savings compared to a long-term deal would be in the $2MM range.  With those deals, teams can get creative with the salary structure to yield a higher qualifying offer at its expiration which is something Robertson's camp would likely push for if they go this route.  Worth noting, Robertson does not have arbitration eligibility and we've seen several in his situation wait until closer to training camp to put pen to paper on a contract.
Sign A Goalie Tandem
Another prominent restricted free agent this summer is goaltender Jake Oettinger.  He actually started this season in the minors but did so well after being recalled that he never went back.  The 23-year-old wound up posting a 2.53 GAA along with a .914 SV% in 48 games during the regular season and then was stellar in seven playoff contests, nearly helping them to get past Calgary despite facing an average of just over 40 shots per game.
This negotiation has the potential to be a bit of a longer one.  Part of that will be due to a lack of experience at the NHL level as Oettinger has just 77 regular season games under his belt.  Not a lot of goalies get pricey long-term deals with that limited experience.  Even if they do want to work out something on a longer-term basis, their hands will largely be tied with what happens with Klingberg's new deal or replacement as well as Robertson's new deals.  If both receive long-term expensive pacts, it's going to force their hand into a short-term bridge agreement.  As Robertson's case could take a while, that could drag Oettinger's discussions out accordingly.
There's also the matter of figuring out their backup goalie.  Braden Holtby had a nice bounce-back year with his best numbers since 2016-17 and while he's not going to be considered as a top starter this summer, he could command a decent raise on the $2MM he made this season on a multi-year agreement.  Dallas might not be able to afford that.  Scott Wedgewood bounced around with three different teams this season but did well enough to be in the mix for a team that's looking to save some money on their backup.  A one-way deal around the $1MM mark should be doable for him, giving him some rare job security in the process.
The Stars do still have Anton Khudobin under contract but after a year filled with injuries and struggles, they'll undoubtedly be looking to get out of the final year and $3.33MM of his deal so he probably won't be in their plans so they'll need to sign both ends of their tandem for next season.
Hintz Extension Talks
While the first three parts of this are the biggest priority for Nill, he's also expected to look into what a contract extension would cost for forward Roope Hintz.  Very quietly over the last couple of years, the 25-year-old has emerged as a viable top center and with a cap hit on his bridge deal of $3.25MM, Hintz has become one of the biggest bargains in the NHL.
That will change in the near future.  Hintz will enter the final season of his contract once the new league year begins on July 13th which means he'll be eligible to sign an extension at that time.  Hintz had 37 goals and 35 assists this past season, good for career-highs in both categories but with DeBoer expected to play a more attack-oriented style, it's reasonable to expect that Hintz could set new benchmarks in 2022-23.  If that happens, the price tag will only go up.
Hintz will only have one RFA-eligible year remaining when his current deal expires so, unlike Robertson or Oettinger, there isn't an option to do a short-term contract to massage their cap situation.  If they can't agree on a long-term deal, it's possible that Hintz files for arbitration and takes a one-year award that takes him to the open market.  A long-term contract should eclipse the $7MM mark and their ability to offer such a deal may very well be determinant on what contracts Robertson and Oettinger wind up with.  When it comes to their summer spending and planning, everything is intertwined and this file, even though it doesn't technically come up for another year, is no exception.
Photo courtesy of USA Today Sports Images.  Contract information courtesy of CapFriendly.