With the offseason in full swing, it's time to examine what each squad will need to accomplish over the coming weeks.  Next up is a look at the Rangers.
2021-22 saw the Rangers turn their fortunes around quickly.  A year after missing the playoffs, new GM Chris Drury made several key changes both on the ice and behind the bench and New York made it all the way to the Eastern Conference Final before being ousted by Tampa Bay, winners of two straight Stanley Cups at the time.  For them to have a chance at making it back to that point, Drury has some work to do this summer.
Free Up Cap Space
This is a common one for a lot of teams, especially as we reach this post of the series where we're looking at the ones that went the deepest in the playoffs.  Generally speaking, those teams tend to have cap crunches.  Right now, New York has a little over $10MM in cap space.  Without context, that doesn't look half bad.  However, they have about six roster spots to fill with that money, some of which will cost a fair bit to fill (more on those shortly).  They don't have enough to fill all of those slots right now.
On top of that, winger Alexis Lafreniere, center Filip Chytil, and defenseman K'Andre Miller are all a year away from restricted free agency.  All three of them will be eyeing considerable raises while Chytil will have arbitration eligibility at his disposal as well.  Knowing that group will become more expensive has to be at the back of Drury's mind as he navigates his offseason planning while it only increases the urgency for them to create some cap flexibility.  That said, roughly half the league is trying to do that so freeing up any sort of meaningful cap room is much easier said than done.
Add A Backup Goalie
One of those roster spots is for a backup goaltender.  Knowing they wouldn't be able to keep him, the Rangers traded Alexandar Georgiev to Colorado just before the draft in exchange for a trio of draft picks, a decent return considering some felt he was a likely non-tender candidate because of his arbitration eligibility.  While they did well in that trade, now they need to replace him.
In recent years, the backup goaltender market has gotten considerably more expensive as more teams look to a platoon situation.  New York certainly won't be doing that with Igor Shesterkin entrenched as their starter but his presence coupled with their cap situation will price them out of shopping near the top end of the market.  Instead, they'll be looking at the more affordable end with veterans like Thomas Greiss, Martin Jones, and Jaroslav Halak being potential fits on one-year deals.  A trade with a team that has surplus depth (San Jose would be an option) would also be a short-term solution.
While they're looking at goaltenders, Drury will likely want to add a second veteran as well, one to take Keith Kinkaid's place with AHL Hartford if they opt not to bring the 33-year-old back.  If the Rangers decide to try to save some money on their backup slot, they could look at a pair of prototypical third-string options and see how things shake out in training camp to see who starts with the big club.  That would free up another million or so for other needs but such an approach would certainly be risky.
Bridge For Kakko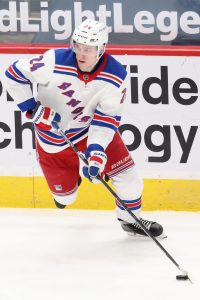 Three years ago, the hope was that winger Kaapo Kakko would be exiting his entry-level contract having established himself as a cornerstone piece of the franchise.  However, the second-overall pick in 2019 hasn't been able to live up to his draft billing just yet.  He has shown some promising flashes but after an injury-plagued year that limited him to just 43 regular season games where he had 18 points and a postseason that saw him pick up just five points in 19 contests while ending with him as a healthy scratch makes it extremely unlikely that either side would be interested in a long-term commitment right now.  Even if they were, finding a dollar figure that would work for both sides would be next to impossible.
So, a bridge deal is what Kakko's contract is going to be then.  Which route the two sides go from there becomes the question.  The more years on the deal, the more expensive it will be.  A one-year pact would give the Rangers the most short-term flexibility but would hand Kakko arbitration rights next summer when Lafreniere, Chytil, and Miller are up for new contracts.  A three-year deal would give both sides some security and a bit more longer-term flexibility but puts him a year from UFA eligibility so that's not necessarily ideal as well.  The expectation is that a two-year contract, the most common bridge deal, is the one that will eventually get done with an AAV around the $2.5MM range.
Add Impact Center
Ryan Strome's tenure with the Rangers hasn't always been the smoothest (to the point where they pondered non-tendering him two years ago) but in the end, it has been a pretty good one.  He put up 195 points in 263 games over parts of four seasons with a cap hit no higher than $4.5MM at any time.  As far as second-line production goes, that's pretty good.  It's the type of consistency that eluded Strome earlier in his career and as he's coming off a season that saw him reach a new career-high in goals with 21, the 28-year-old has positioned himself for another raise.  It's one that New York might not be able to afford.
New York also added Andrew Copp at the trade deadline to lengthen their lineup and also to get an early jump on trying to sign him as Strome's possible long-term replacement.  But with him seeking a contract comparable to Zach Hyman (seven years, $5.5MM AAV), it's unlikely that Copp will be in their price range as well.
Chytil was the 21st pick back in 2017 with the hopes that he'd be able to emerge as a capable two-way middleman.  He has shown some upside at times but over the last four years, his point totals have ranged from a low of 22 to a high of 23.  That type of production isn't enough to comfortably hand him Strome's old job even though a full season with Artemi Panarin would undoubtedly boost Chytil's numbers.
With the internal options basically off the table barring a change in contract demands, Drury will have to look elsewhere for his second pivot behind Mika Zibanejad.  Of course, the top free agent options in Nazem Kadri and Vincent Trocheck are going to land pricier long-term deals so they're out of reach as well with New York's current cap situation.  Finding someone capable of playing that role at a price tag that's equal to lower than what Strome made the last two years is undoubtedly a tall task but Drury will need to find a way to fill that spot either through free agency or a trade over the next couple of weeks.
Photo courtesy of USA Today Sports Images.  Contract information courtesy of CapFriendly.