With the offseason in full swing, it's time to examine what each squad will need to accomplish over the coming weeks.  Next up is a look at the Oilers.
This past season was a good one for the Oilers as they were able to make it to the Western Conference Final for the first time since 2006 before being taken out by the eventual Cup-winning Avalanche.  Now, GM Ken Holland has some work to do to keep as much of the core intact while trying to add a piece or two to bolster their chances for next year.
New Deals For RFA Wingers
Let's start with the free agent front.  Thanks to their cap situation, they were forced to give low-cost bridge contracts to wingers Kailer Yamamoto and Jesse Puljujarvi.  It worked in the sense that it allowed them to have enough flexibility to add some other pieces to their roster for 2021-22 and clearly, some of those additions helped propel them to the third round.  But now, those young wingers are about to cost more.
Yamamoto will be owed a $1.175MM qualifying offer but should more than double that on his next contract.  After a tough showing in 2020-21, the 23-year-old bounced back nicely, hitting the 20-goal mark for the first time while setting new career bests in assists (21) and points (41) as well.  He didn't produce at the same point-per-game rate that he did in his rookie campaign but he spent most of the year in Edmonton's top six, logging nearly 17 minutes a game.  Yamamoto is now arbitration-eligible and with the year he had, he'll have a strong case to push for something in the high-$2MM range if it gets to a hearing.  Another short-term contract is likely to keep the cost down but it will cost a fair bit more this time around.
As for Puljujarvi, the 24-year-old has had more success in his second stint in the NHL and is coming off a career year of his own with 36 points in 65 games with impressive possession stats as well.  His playoff performance ended things on a sour note but with him being arbitration-eligible as well, he's in line to earn considerably more than his $1.41MM qualifying offer.  At this point, a trade appears to be likely but that was the expected outcome a few years ago when he first wanted out.  If he sticks around, they'll need to pay up to keep him.  If he goes, they'll need to find a pretty good player to replace him, one that won't come all that cheap.
Add A Goalie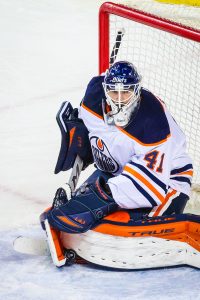 Now, onto the obvious one.  Goaltending has been an issue for the Oilers for several years now and while Holland has tried to get in on the bidding for some of the notable free agents (such as Jacob Markstrom), he hasn't been able to land an impact starter.  Keeping Mike Smith around was supposed to give them some stability but the combination of him and Mikko Koskinen was highly volatile.  Now, Koskinen is off to Switzerland while there has been plenty of speculation that Smith, who has one more year left on his contract, is expected to spend 2022-23 on LTIR after playing through several injuries during Edmonton's playoff run.  That leaves a pair of openings to fill.
One of those can be covered internally by Stuart Skinner who didn't look out of place in a dozen starts this past season.  He's under contract for the league minimum for 2022-23 which will give Holland a little extra flexibility to work with.  However, the 23-year-old isn't ready to be an NHL starter yet and hasn't played 50 regular season games in a full professional year.  He's someone that could be leaned on for 25-30 starts but anything more than that would be risky.  Accordingly, the Oilers will need a true starter or at least someone that's capable of playing the strong side of a platoon.
Looking into free agency, there aren't a lot of those available with some of the more prominent names coming off the board over the last 48 hours.  Darcy Kuemper will hit the open market with Colorado opting to go in a different direction and Jack Campbell remains unsigned.  Those are the only two goalies that made more than 35 starts in 2021-22.  Unless there's a trade out there for an affordable goaltender to materialize, their options are limited and Edmonton will need to make sure one of those two is in their lineup on opening night.
Re-Sign Or Replace Kane
A few days ago, it looked like it would be quite difficult for Edmonton to have a chance at keeping Evander Kane in the fold.  The power forward fit in quite well after joining the team midseason and is well-positioned to land a sizable contract.  It probably won't be as high as the one that San Jose terminated but he will land one of the bigger deals on the open market next week.  But with them offloading Zack Kassian's contract to Arizona and Duncan Keith set to retire, more than $8.5MM in cap room is opened up.  Smith being LTIR-bound would give them another $2.2MM to work with although they'll need that and more to fill the goalie vacancy.
All of a sudden, there's at least a pathway towards Holland being able to take a legitimate run at keeping Kane around and ensuring a key part of their attack – he had 22 goals in just 43 games – sticks around.  If not, they'll need to put that money to good use to bring in another top-six forward to replace him.  If they have to go the latter route, it wouldn't be surprising to see Edmonton prefer a shorter-term option – someone like Claude Giroux – whose contract would expire by the time Draisaitl's contract wraps up in 2025.  Keith's retirement has given Holland a chance to bring back or bring in another key piece and they'll need to take advantage of it.
Add Defensive Depth
Keith's retirement also opens up a spot on the back end to fill as the soon-to-be 39-year-old logged nearly 20 minutes a night on Edmonton's blueline.  While Evan Bouchard can conceivably cover a couple more than what he logged in 2021-22, the Oilers will need to find a replacement that's at least capable of playing 16-18 minutes per contest.
On top of that, Brett Kulak and Kris Russell are pending unrestricted free agents, opening up a pair of slots at the end of their roster.  While Kulak is a candidate to be brought back – more so following the Keith news – a depth defender or two would go a long way towards giving them a bit of stability on the third pairing.  Philip Broberg has some upside but limited NHL experience so far while their current depth options like Slater Koekkoek and Dmitri Samorukov aren't players they should be comfortable using on an every-game basis.
What they are or aren't able to do here will largely be determined by what happens with their goalie situation and Kane but is something that Holland will be looking to address in the coming weeks.
Photo courtesy of USA Today Sports Images.  Contract information courtesy of CapFriendly.