With the offseason in full swing, it's time to examine what each squad will need to accomplish over the coming months.  Next up is a look at the Blues.
2021-22 was a decent season for St. Louis.  While they finished in third in a very tight Central Division, they got past Minnesota in the first round and then took the eventual Cup-winning Avalanche to six games.  GM Doug Armstrong can afford to keep most of the core together but there will still be a lot of work to do over the coming weeks.
Decide Tarasenko's Future
Last summer, Vladimir Tarasenko wanted a trade but coming off another season that saw him miss extended time due to a shoulder issue and a $7.5MM cap hit, there were no takers.  Seattle had an opportunity to take him in expansion and passed.  The end result was somewhat of an awkward return to St. Louis.
It's safe to say it worked out well for both sides.  Tarasenko was able to show that he's fully recovered from his shoulder surgeries, getting back to the 30-goal mark while eclipsing 80 points for the first time in his career.  That was good enough for him to lead the Blues in scoring, giving them a much deeper offensive group in the process.
Now Armstrong has a decision to make.  The trade request hasn't been rescinded and there should be a much better trade market for Tarasenko's services this time around although it's worth noting that Tarasenko has a full no-trade clause which could come into play as well.  The fact that the commitment is only for one year will help his value in a cap environment where it's difficult to move pricey multi-year contracts.  Moving him would almost certainly yield some cap savings which could come in handy this summer.
But trading Tarasenko away now would also create a big opening to fill on the Blues as teams rarely get better after trading their top scorer.  While there's definitely a risk in potentially losing him for nothing in free agency, that has to be weighed against their current situation where they're a team with an eye on contending next season.  The next couple of weeks is when trade activity is at its peak so if Armstrong is pondering a trade, it may need to happen sooner than later.
Re-Sign Or Replace Husso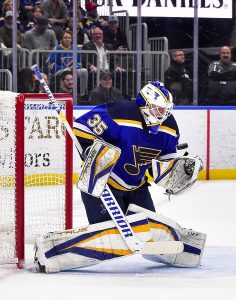 Coming into the season, Jordan Binnington was expected to be the starter for the Blues with Ville Husso, who had a quiet rookie year, serving as the backup.  That changed in the second half of the year when Binnington struggled and Husso stepped up with a .917 SV% from the beginning of January to the end of the season.  Unfortunately for Husso and the Blues, the 27-year-old struggled in the playoffs when Binnington was injured so his season ended on a down note.  However, Husso showed enough during the season to position himself as one of the top goalies heading into unrestricted free agency this month where he'll also be one of the younger goalies to hit the open market.
That has him well-positioned to earn a significant raise after making the league minimum the last two years.  While it's unlikely he'll be able to command true starter money – he has 64 career NHL appearances (including playoffs) after all – Husso could reasonably expect to get the type of top backup money that has been thrown around in recent years in free agency.  Jonathan Bernier, a platoon goalie like Husso might be best suited to be, just received a two-year deal with a $4.125MM cap hit last summer from New Jersey.  With the potential for more upside, it's quite possible that Husso could receive more than that on the open market on a multi-year commitment.
Is that something the Blues can afford on their books with Binnington still on the books for another half-decade at $6MM per season?  Is that a price they should want to pay even if they had the money to?  If Armstrong feels that the answer to one of those questions is no, then St. Louis will be among the teams joining the annual goalie shuffle that will take place at the start of free agency on July 13th.
Extension Talks
In their summer spending planning, the Blues will need to keep in mind that three prominent forwards (beyond Tarasenko) will need new contracts a year from now so any spending this offseason could cut into what they have for contracts in 2023 (unless they sign players to one-year deals).  Once July 13th hits, contract extensions can be worked out and Armstrong will be wanting to have those discussions somewhat quickly.
Ryan O'Reilly continues to be one of the more prominent two-way centers in the league.  He consistently produces at a minimum of a 60-point pace (over a full 82-game season), kills penalties, and is one of the most prominent faceoff players in the league.  He's not a true number one center in terms of his scoring output but prior to this past season, he averaged more than 20 minutes a game for six straight years.  With a $7.5MM cap hit currently, O'Reilly – who will be 32 when it starts – could conceivably command a similar price tag on a long-term deal, one that runs a little longer than preferred to keep the AAV down.
Then there are a pair of prominent younger forwards who will be coming off their $2.8MM bridge contracts in Robert Thomas and Jordan Kyrou.  Both players hit career highs across the board in 2021-22 while surpassing the point-per-game mark.  A repeat performance on either side would only push the asking price higher than it might be this summer.  At this point, barring a significant drop-off next season, both players should easily double their current price tag at a minimum.  New long-term contracts for those two basically will offset any cap savings if one of Tarasenko or O'Reilly goes unsigned a year from now.
While he's not at the level of the other three listed here, it's also worth mentioning that center Ivan Barbashev will also be on an expiring deal next summer and is extension-eligible later this month.  He's currently on a $2.25MM and is coming off a 60-point season.  The 27-year-old will be unrestricted in 2023 and is currently in a position to land a significant raise of his own.  It's less likely that he'll be extended now since his performance was an outlier relative to his first few seasons but if Armstrong intends to keep him around, he'll be budgeting some room for that as well.
Create Cap Flexibility
If you read through that and thought to yourself that the Blues could use some extra cap flexibility, you're certainly not the only one who thinks that.  Looking ahead to this summer's spending, it should also be noted that on top of Husso being unrestricted later this month, so are winger David Perron and defenseman Nick Leddy, both quality veterans.
It's well-known that there is a mutual desire for Perron to stick around which will cut into the $9MM of cap space they have to work with this summer and likely into 2022-23's money as well unless they can convince the 34-year-old to take a one-year deal.  Doing so would put Perron's next contract into 35+ territory so that's not an ideal scenario from his point of view.  Between that and needing some money for Husso or his replacement, it's unlikely that Leddy returns although St. Louis would undoubtedly love to try to bring in an upgrade there as well.
There's one contract that stands out above the rest in terms of an overpayment that they'd likely want to get out of and that's defenseman Marco Scandella.  At $3.275MM for two more years, it's not as if it's a massive above-market contract but they can likely find someone capable of covering his 18 minutes a game for less money.  After that, however, it's important parts of their core that might have to be moved to create that extra wiggle room.  In an ideal world, Armstrong is able to kick that decision down to next summer and delay the tough decisions for another year but they'll need to move one notable salary off the books to have a chance at that happening.
Photo courtesy of USA Today Sports Images.  Contract information courtesy of CapFriendly.