As we stand on the eve of the trade deadline, moves are coming in faster and faster. Where does each team stand and what moves should they be looking to make?  We finish our look around the league with the Nashville Predators. 
In 2020-21, after their season started disappointingly, many observers were clamoring for the Nashville Predators to begin a rebuild. But they went on an impressive stretch run and made the playoffs. Then, the Predators put up a valiant fight against the Carolina Hurricanes in the first round before falling in six games, and this season they have built on that momentum. Coach Jon Hynes' squad has battled hard since the start of this year's campaign and is now in the thick of the Western Conference's playoff race. Anchored by resurgent performances from the $8MM men in Matt Duchene and Ryan Johansen, along with an otherwordly season from captain Roman Josi, the Predators are firmly in the Western Conference's playoff race and set to steer clear of the "seller" status GM David Poile has worked so hard to avoid. But with Filip Forsberg (who is now the franchise's all-time leading goal scorer) a pending unrestricted free agent, the team has an intriguing trade deadline to navigate.
Record
36-22-4, 4th in the Central
Deadline Status
Buyer
Deadline Cap Space
$49.65MM today, $50.8MM in full-season space, 0/3 retention slots used, 42/50 contracts used, per CapFriendly.
Upcoming Draft Picks
2022: NSH 1st, NSH 2nd, NSH 3rd, LAK 3rd, NSH 4th, NSH 5th, NSH 7th
2023: NSH 1st, NSH 2nd, NSH 3rd, NSH 4th, NSH 5th, NSH 6th
Trade Chips
Given his importance to the team and his status as a pending unrestricted free agent, much of the conversation around the Predators' trade deadline approach has centered around Forsberg. Many expect the team to pursue an extension with their talented winger, but the two camps are "not close" on extension talks, as a source told David Pagnotta of The Fourth Period. As mentioned earlier, Forsberg has been brilliant this season. He's been an offensive engine for the team and is one of the major reasons for their success. He has 58 points in 49 games, including 33 goals this year. Forsberg has been inconsistent in the past and also somewhat injury-prone, so it makes sense that there could be a divide between Poile and Forsberg. Forsberg could very well want to be compensated with a contract fitting for a player producing as he has been producing, and Poile could respond by pointing to Forsberg's inability to have a season like this one in the past. It's a very tricky situation, and it's unlikely that Forsberg receives an extension he deems acceptable before the deadline. As a result, one has to wonder if Forsberg ends up traded. It would be a catastrophic blow to the Predators' season, and a move that would be highly polarizing, but Poile has made bold moves before. If he's sure that he cannot get Forsberg on a reasonable contract, and he isn't confident that his team is a true Stanley Cup contender, could he move Forsberg for what would inevitably be a significant return package? It's something to consider.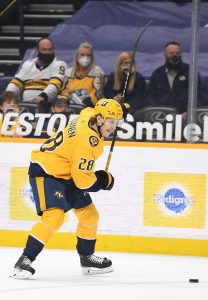 If the Predators choose to take a different approach to the deadline and decide to add a significant player to bolster their roster, one trade chip they could move to facilitate a deal is winger Eeli Tolvanen. Tolvanen, 22, is currently slotted in as the left winger on Mikael Granlund and Luke Kunin's line, which is a prominent role, but his production this season has not been up to the level one would expect for a top-six winger, and especially one who was as touted of a prospect as Tolvanen was. He has nine goals and 20 points this season in 59 games and is on pace to finish with 13 goals and 28 points in 82 games. Tolvanen's calling card is his shot, but his offensive tools have yet to translate into consistent production. If the Predators want to make a big trade before tomorrow's deadline but don't want to part with top prospects such as Yaroslav Askarov, Fedor Svechkov, or Luke Evangelista, maybe Tolvanen is the one that goes the other way. For an acquiring team, Tolvanen represents an NHL-ready upside play whose raw talent could finally be fully realized with a change of scenery.
One potential player who could be moved to help the Predators facilitate a trade is Philippe Myers. Nashville has mountains of cap space to work with at the deadline, so they aren't in a situation where cap necessarily needs to move out if they want to make a deal. That being said, should Poile have designs on making big moves this offseason, trading Myers may become a priority, so they may get ahead of that now. Myers recently went unclaimed on waivers, so the Predators could need to attach a sweetener asset, maybe a draft pick or a prospect to be able to move him. Myers, 25, has a $2.55MM cap hit that extends into next season, and he has struggled to fit in on the Predators' team after arriving in the Ryan Ellis trade this past offseason. Myers was a promising, smooth-skating young defenseman in his Philadelphia days, so maybe a team is willing to bet on that version of him re-appearing if Nashville is willing to retain some salary. Either way, it seems that Myers' days in Nashville could be coming to an end before they ever really had a chance to get going.
Others to Watch For: D Ben Harpur, F Rocco Grimaldi, D Matt Benning
Team Needs:
1) Defensive Help
The Predators' top pairing of Josi and Dante Fabbro has worked out very well for them this season, so no issues there. Their second pairing is anchored by Mattias Ekholm and features Alexandre Carrier who has had a bit of a breakout season. Their third pairing has been where they've had more trouble. As Mark Borowiecki and  Benning have battled injuries, players like Harpur, Jeremy Davies, and Matt Tennyson have all seen time on the bottom pairing. That's not a group that inspires confidence, especially for a team currently looking like a playoff contender. If the Predators decide they want to buy some reinforcements at the deadline, expect adding a defenseman to be their top priority.
2) More Scoring
The engine of the Predators' offensive attack is their Forsberg-Johansen-Duchene line. Forsberg and Duchene are above point-per-game and Johansen is close to that pace. Granlund has had a strong year as the team's second-line center, but after him, the scoring gets thinner. Tanner Jeannot, Yakov Trenin, and Colton Sissons form the heart-and-soul line that the team relies on, but this is a team with two clearly defined lines to drive them, and then Granlund with some question marks surrounding him. They could use some more scoring punch to help Granlund out, but it's not an absolute priority. The defense should be the focus, but if possible, adding a proven scoring winger to help reinforce Granlund's line would ease the pressure on the two lines the team is currently heavily reliant on.
Photo courtesy of USA Today Sports Images