As we enter the middle of March, the trade deadline is inching closer. Where does each team stand and what moves should they be looking to make?  We continue our look around the league with the Winnipeg Jets.
A revamped back end for Winnipeg over the summer provided some cause for optimism heading into the season.  After a quick exit in the second round to Montreal, the additions of Nate Schmidt and Brendan Dillon were supposed to steady the blueline and help the Jets take that next step forward.  They've certainly helped on that front but unfortunately for them, Connor Hellebuyck has struggled and the end result is that they find themselves right in the middle heading into next week's deadline – too close to automatically give up but too far away to realistically spend assets to try to make a run.
Record
28-23-10, 6th in the Central
Deadline Status
Toss-up
Deadline Cap Space
$669K today, $669K in full-season space (using LTIR), 0/3 retention slots used, 40/50 contracts used per CapFriendly
Upcoming Draft Picks
2022: WPG 1st, CBJ 3rd, WPG 5th, WPG 6th, WPG 7th
2023: WPG 1st, WPG 3rd, WPG 4th, WPG 5th, WPG 6th, WPG 7th
Trade Chips
The good news for Winnipeg is that if they do decide to sell, they have two veterans at a position that will be in high demand.  One of those is Andrew Copp, whose specific case we looked at in some detail over the weekend.  He's currently out with a head injury and while it's not believed to be too serious, it could put a hold on talks for the time being.  While his production has tapered off in recent weeks, he's a two-way player that can play all three positions and do so in both offensive and defensive roles.  Pretty much every contender would have a use for that type of versatile player although, with a $3.64MM AAV, not all of them will be able to afford him.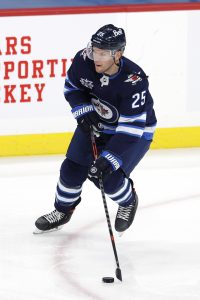 The other center that would be available if they sell is Paul Stastny.  The 36-year-old has actually improved his offensive numbers from last season with 17 goals and 13 assists in 50 games, giving him his best point per game average since the 2018-19 season.  Stastny has spent a lot of this season on the wing with Winnipeg having Mark Scheifele and Pierre-Luc Dubois on their top two lines but he was a full-time middleman as recently as last season.  He'd fit in well on the third line for several contenders with an ability to move up in a pinch although his price tag of $3.75MM will take some creativity for some of them to fit the veteran onto their roster.
Nathan Beaulieu is currently on LTIR and will be out until next month but if there's a team looking to add a bit of depth, his $1.25MM cap hit isn't overly high and the 29-year-old has held his own on the third pairing in the past although his role has been reduced this year.  The return would be minimal – a conditional draft pick based on games played at most – but there's at least a small possibility that he'd move.
On the other side of the coin is David Gustafsson.  The 21-year-old pending RFA actually cracked Winnipeg's lineup as a 19-year-old but had a very limited role that year and in the two seasons since then, his NHL time has been extremely limited, including just two appearances this season that totaled less than five minutes of action.  He has played well with AHL Manitoba with 20 points in 33 games but as someone that needs waivers next season and doesn't appear to have the confidence of the NHL coaching staff right now, he's someone that GM Kevin Cheveldayoff might be comfortable parting with in a smaller move if he decided to try to add a small piece to try to help get the Jets into the second Wild Card spot.
Then there are the blank spots on their roster.  Only one team (Seattle) has fewer players signed to NHL contracts and there are a dozen teams that are three or less away from the limit of 50.  Winnipeg is in a position where they could add some extra AHL depth and perhaps a late draft pick to take a contract from one of those teams that has to free up a slot to make a move.  It wouldn't be worth much but the empty slots effectively are a trade chip for the Jets.
Others To Watch For: D Tyrel Bauer (unsigned prospect), F C.J. Suess ($725K, UFA)
Team Needs
1) Draft Picks – If Winnipeg sells, they need to stock up on picks.  They haven't had a full set of draft choices since 2017 and have had just four selections in each of the last two seasons.  At the moment, they only have two choices in the first 140 spots which is hardly ideal.
2) Depth Forward Upgrades – As a result of keeping their top forwards intact from last year and adding to their back end, Cheveldayoff had to go really cheap at the bottom of the depth chart.  The results haven't been great for the most part.  They need low-cost improvements both now and in the long term, making this a team need that needs to be addressed regardless of which direction they ultimately wind up taking over the next few days.  While there are other needs to fill, it's unlikely they'll be addressed here with the Jets either selling or basically standing pat
Photo courtesy of USA Today Sports Images.