With the salary cap set to stay flat for the near future, the battle for most NHL clubs is being able to fit their payrolls under that cap's $81.5MM upper limit. For the Arizona Coyotes, though, the upcoming battle seems to be managing to ice a roster above the NHL's salary floor. Per CapFriendly, the Coyotes' projected cap hit for the 2022 season currently stands at only $37.9MM, and the team's only major pending free agents are Lawson Crouse and Phil Kessel, two players who very well could be traded before this season's trade deadline. Essentially, the Coyotes are going to need to add some significant salaries to their cap sheet to get above the cap floor, which currently sits at just over $60MM.
The Coyotes' need to add salary to reach the cap floor is made more complicated by the team's arena situation and the finances involved with it. The team is already not known as a financial powerhouse and has historically struggled with inconsistent ownership. The team recently agreed to a deal to play in Arizona State University's new multi-purpose arena project, settling there on an "indefinite" basis until the team can secure a new long-term home. With a home arena capacity set to be under 5,000, and the team already receiving the maximum amount of support from the league's revenue-sharing system, it stands to reason that budgets could be tight for the Coyotes moving forward. This means that their effort to get above the salary cap floor for next season could be more complicated than simply doling out a few big contracts. The team may be looking to get a bit more creative, and to take advantage of how the NHL calculates salary cap hits.
The NHL calculates a player's cap hit through the average annual value of the contract. So if a player signs a 2-year contract worth a total of $10MM, the yearly cap hit is going to be $5MM, regardless of how the individual years' salaries to be paid out are structured. This means that there are players on teams' rosters with higher cap hits than actual dollars due to be paid to them for that season, and it seems as though the Coyotes could target those players to be able to get above the cap floor without needing to pay the full $60MM or so that the cap floor is set at.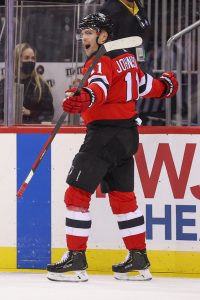 One of those players with a cap number exceeding actual cash owed is Devils winger Andreas Johnsson. Johnsson, 27, is set to have a base salary of only $750k next season. His signing bonus is set at $1.75MM, but his cap hit is going to be $3.4MM. This makes Johnsson an ideal candidate for them, and TSN's Darren Dreger links Johnsson with the Coyotes for this exact purpose. Johnsson could be a fit with the Coyotes for not only all the financial reasons previously mentioned but also for his play on the ice. Johnsson has 11 goals and 28 points this season, and his 28 points would make him the fourth-highest scorer on the Coyotes. He is an accomplished offensive player at lower levels who has flashed talent at the NHL level, and has scored 20 goals before. The Coyotes went all-in on mining value from unconventional sources when building their roster this season, as evidenced by the out-of-nowhere success of Travis Boyd. Acquiring Johnsson, as Dreger reported they could, would represent a continuation of that philosophy for GM Bill Armstrong.
In more news about the Coyotes coming from TSN's Insider Trading panel, TSN's Chris Johnston reports that the Coyotes are "going to have to look" at potential trades for goaltender Karel Vejmelka if the team is unable to reach a deal with him on an extension. Vejmelka is one year away from being an unrestricted free agent, and although the Coyotes, per Johnston, really like Vejmelka and are engaged in trying to get him signed to an extension, their organizational mandate to accumulate as much long-term value as possible could mean that Vejmelka gets dealt to a goaltending-needy team. On a Coyotes team that has struggled all season, Vejmelka has been occasionally brilliant and posted decent overall numbers, with a 3.38 goals-against average and a .904 save percentage. Again, the Coyotes team Vejmelka plays behind has been among the league's worst this season, so while these numbers aren't impressive on their own they are more impressive with proper context. From what Johnston is reporting, it seems as though the Coyotes genuinely do want to keep Vejmelka as a first priority, but the realities facing the team mean they could be forced to deal him.
Pierre LeBrun of TSN has reported that the Toronto Maple Leafs "have spoken" with the Chicago Blackhawks about the 2020-21 Vezina Trophy-winning goaltender Marc-Andre Fleury. Toronto's goaltending has faltered in recent weeks, with starter Jack Campbell struggling to find his game and backup Petr Mrazek enduring season-long issues. Maple Leafs GM Kyle Dubas has repeatedly reiterated his faith in the team's goaltending tandem, but this reported "due diligence" conversation between the two clubs is an indication that perhaps the goaltending situation in Toronto is not as settled as it may seem. LeBrun does note that Toronto is unlikely to be Fleury's ideal trade destination if he elects to be moved. But regardless of Fleury's specific situation, this reported contact between the Maple Leafs and Blackhawks is an indication that the Maple Leafs are potentially searching for upgrades in net, and if they end up doing so their pursuit could drastically change the trade market, as the pool of available goaltenders is generally believed to be thin.
Photos courtesy of USA Today Sports Images