As we enter the middle of March, the trade deadline is inching closer. Where does each team stand and what moves should they be looking to make?  We continue our look around the league with the Chicago Blackhawks
The Chicago Blackhawks have been among the most successful teams in recent NHL history. They won three Stanley Cups with their core of Patrick Kane, Jonathan Toews, and Duncan Keith, but their last win was in 2014-15, and times have gotten leaner since. Former GM Stan Bowman made a blockbuster trade last offseason to acquire defenseman Seth Jones, but the team has disappointed, and under new GM Kyle Davidson, the team looks set to begin a large-scale rebuild in order to return to proper contention. That rebuild began today, with the team's trade of Brandon Hagel for a large haul of picks and prospects. With that move done, and Davidson's issued statement on the trade, it is clear that big changes are coming to the Blackhawks sooner rather than later.
Record
22-30-9, 7th in the Central
Deadline Status
Seller
Deadline Cap Space
$2.26MM today, $2.26MM in full-season space, 1/3 retention slots used, 47/50 contracts used, per CapFriendly.
Upcoming Draft Picks
2022: CHI 1st (only receive pick if slotted #1 or #2), CHI 2nd, EDM 3rd,* TOR 3rd, VGK 3rd, CHI 6th, CBJ 6th, CHI 7th
2023: CHI 1st, TBL 1st,** CHI 2nd, TBL 2nd, CHI 3rd, CHI 4th, CHI 5th, CHI 6th, CHI 7th
* If EDM makes it to the 2022 Stanley Cup Final and D Duncan Keith is inside the team's top-four in terms of time-on-ice, CHI will receive EDM's 2022 2nd
** 2023 TBL 1st is top-10 protected.
Trade Chips
Chicago's recent trade of Brandon Hagel clearly shows that Davidson is serious about the Blackhawks' rebuild. Hagel is only 23 years old, productive, and on a steal of a contract that costs $1.5MM against the cap until 2024-25, when he will be a restricted free agent. He's the kind of player that most teams– even rebuilding ones– would want to keep. A player to build around, even. But for Davidson, a scorched-earth rebuild is in order, and his apparent goal is to stockpile as many picks and prospects as possible to build the Blackhawks into a mid-to-late 2020's powerhouse. So in order to do so, it seems as though any player on the team's roster is potentially available at the right price. Which means a "trade chips" section could be a bit wide open. That being said, there are a few likelier candidates.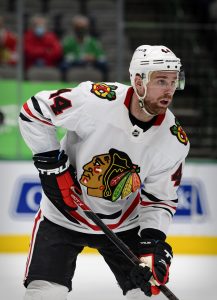 One more likely candidate is defenseman Calvin de Haan. De Haan, 30, is a veteran defenseman on an expiring contract with a $4.55MM cap hit. He plays a style of hockey that is largely unremarkable, but also commendably steady. He has gotten into 55 games this year and posted only five points, so teams seeking offense should look elsewhere, but if a team wants a player who they can stick on their bottom-pairing and not have to worry about, De Haan fits the bill there. The asset cost for a team to acquire him should also be lower than many of the other defensemen on the market, although one does wonder if the asking price gets increased thanks to the aquisition cost the Florida Panthers paid to acquire Ben Chiarot. But regardless of what that prior trade may have done to his market, De Haan represents an attractive trade chip for contending teams who are in need of steady defensive reinforcements but leery of paying the high prices associated with the other available blueliners.
Another player on the team more likely to be moved is forward Ryan Carpenter. Carpenter is similar to De Haan in that he plays a bland-but-steady style of hockey, although perhaps that is more of a virtue for a defenseman than it is for a forward. Even so, Carpenter, 31, has carved out an NHL career nearing 300 games in length through his hard work, determination, and character. He hasn't and probably never will cross the 25-point threshold, and he's not an overwhelming defensive or physical presence, but he plays a reliable game of hockey that a coach might desire for his bottom-six. He has 26 games of playoff experience and a coach with a less established bottom-six could prefer Carpenter to a less proven, more inexperienced player once the rigors of playoff hockey truly set in. Like De Haan, Carpenter also should not cost very much to acquire, and his cap hit is only $1MM, so expect him to be one of the likelier Blackhawks to be dealt by monday.
While Carpenter and De Haan are both assets where an acquiring team knows what they are receiving, with a player like Dominik Kubalik, things are far less certain. Chicago is reportedly interested in trading Kubalik, and after the Hagel trade, it certainly seems more likely. Kubalik, 26, broke into the NHL in 2019-20, scoring 30 goals in his first season as a professional in North America. He followed that up with a decent 2020-21, with 17 goals and 38 points in 56 games. This season, though, as the Blackhawks team around him has struggled, Kubalik's production has not improved as many may have expected. Through 61 games Kubalik has just 11 goals and 21 points, and his linemates are more frequently players like Philipp Kurashev and Henrik Borgstrom than they are Kane. As a pending RFA with arbitration rights, his situation in Chicago has gotten more dicey. Could a contending team, or even a team seeking to contend in the near future, take a leap of faith and trade for Kubalik, hoping that he re-gains the scoring touch he had in his first two seasons? A source indicated (subscription required) to Mark Lazerus and Scott Powers of The Athletic that the asking price on Kubalik could be just a 2nd round pick, so this is the kind of trade that could be a home run if a team gets it right.
Others To Watch For: G Marc-Andre Fleury, F Patrick Kane, F Dylan Strome
Team Needs
1) Draft Picks
As previously mentioned, it's clear that Davidson's vision for this team includes stockpiles of draft picks and prospects. So, in terms of what the Blackhawks need at this deadline, their number-one priority should be fulfilling that vision. That means that if there is a reasonable trade on offer that involves the Blackhawks receiving a beneficial amount of draft compensation in return, the teams should do it. They don't have a ton of cap space available, but perhaps after moving veterans as expected Chicago could have enough room to function as a cap-space broker as well, in order to add a few more depth picks.
2) Reclamation Projects
One of the best ways a team can speed up their rebuild is by identifying and acquiring struggling players who can be developed into quality NHL players. As an example of this, the Rangers got a top-six center in Ryan Strome as part of their rebuild, and the Vancouver Canucks got a point-per-game force by trading for J.T. Miller, whose production was stagnant in Tampa Bay. The Blackhawks already have a history of doing this, with former top prospects like Strome  on their roster, but as more and more NHL ice-time gets freed up by rebuild-oriented trades, trying to find diamonds in the rough should be a goal for Davidson.
Photo courtesy of USA Today Sports Images