The trade deadline is now just over a week away as we continue our look at some of the players who have a good chance of being on the move between now and March 21st.
Andrew Copp has fairly quietly but steadily improved over the past several seasons and has worked his way up from being an energy player on the fourth line to a reliable checker to a quality two-way center that plays big minutes in all facets of the game.  As a result, if Winnipeg decides that they're going to sell, Copp will be one of the most sought-after players around the league in the days to come.
Contract
Copp is on a one-year, $3.64MM contract that was agreed on prior to his arbitration hearing in August and thus contains no form of trade protection.  The deal is all salary and he will be an unrestricted free agent after the season.
2021-22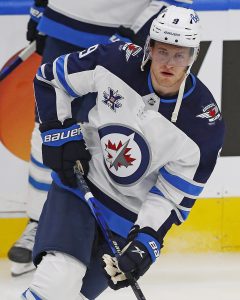 Copp has been somewhat of a Swiss army knife for Winnipeg this season.  Injuries to Blake Wheeler and Nikolaj Ehlers opened up spots on the wing that Copp filled at times.  He has spent most of the year playing down the middle but even with a fully healthy lineup (including Mark Scheifele and Pierre-Luc Dubois at center), Copp has logged heavy minutes and is third among all Winnipeg forwards in ice time behind only Kyle Connor and Scheifele.
Unsurprisingly, the 27-year-old has seen plenty of action on special teams.  He leads all Jets forwards in shorthanded ice time per game and plays almost the same amount of time on the power play, making him their only player to average at least 2:30 per contest in both situations.
The end result is that Copp is on pace to set career highs across the board (he's already there in shots on goals).  On top of that, he's winning over 53% of his draws and we know how much teams value situational faceoff performance in the playoffs.
However, it's worth noting that his production has tapered off a little bit as of late with five points in his last 16 games while half of his full-season point total came in the first 15 games of the year.  That shouldn't hurt his market too much but interested teams will be factoring that into their offers.
Season Stats
53 GP, 13 goals, 19 assists, 32 points, even rating, 8 PIMS, 147 shots, 20:05 TOI, 52.9 CF%, 53.8% faceoffs
Potential Suitors
Basically, any contending team with some cap space will have interest in Copp if he's made available.  Winnipeg could retain to facilitate a deal although they're close to being capped out so there may be a limitation to how much they can hold back or who they can take on to offset part of the contract.
In the East, the Bruins never really filled the hole created by David Krejci's departure and have been looking to fill a top-six hole all season.  Copp fits the bill on both ends and they have the cap space to afford him outright.  So do the Rangers who could either slot him in on the wing in the top six or have him anchor a new-look third line that can take some pressure off the top lines.  The Maple Leafs have been linked to some wingers and Copp would be a good complementary piece on the wing on their second line although making the money work would be a challenge with Jake Muzzin set to return later this season.  The Capitals have been looking around at checking wingers and while Copp is rated a little higher, he's someone they'd have interest in although again, the cap looms large on that front.  The Panthers may covet Copp's faceoff prowess to help offset Sam Bennett's struggles on the draw if they aren't able to add a significant piece on the back end.
Out West, the Wild stand out as a strong fit.  They're stuck shopping for expiring contracts with the buyout charges increasing next season for Zach Parise and Ryan Suter and could certainly use some improvements down the middle.  The Avalanche have good depth at center already but could use Copp on the wing or in a shutdown capacity.  It'd also be an opportunity to evaluate if he could be a serviceable replacement for Nazem Kadri if Kadri prices himself out of what Colorado can afford over the offseason.  The Flames would have some cap challenges to overcome and would need to use him on the wing but he certainly fits Calgary's playing style.  If the Predators opt to try to make a bigger addition, Copp is someone that would fit in a role that's similar to one he plays with Winnipeg, splitting time at center and the wing.
Likelihood Of A Trade
A lot will depend on how Winnipeg fares in this next week.  If they can close the gap on a Wild Card spot, they may hold onto Copp in the hopes of sneaking into the postseason.  However, if that doesn't happen and a contract extension isn't in the cards, there's a very good chance that Copp will be on a different roster once the clock passes 2 PM CT on March 21st.
Photo courtesy of USA Today Sports Images.