The Chicago Blackhawks have begun the teardown, though it will start with a very surprising move. They are trading Brandon Hagel and a pair of fourth round picks in 2022 and 2023 to the Tampa Bay Lightning in exchange for Boris Katchouk, Taylor Raddysh, a 2023 first-round pick, and a 2024 first-round pick. After the deal became official, Blackhawks GM Kyle Davidson issued the following statement:
"I said a few weeks ago that we are rebuilding, and this is clearly the start of that. Getting two first round draft picks as well as two, young, NHL players helps us kickstart that process in a major way. We know that Brandon Hagel was a fan favorite — our fans loved him for all the reasons we loved him — and we know he be successful with the Lightning."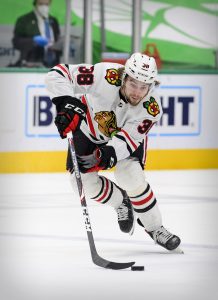 Hagel, 23, is on one of the most valuable contracts in the league this season and carries a cap hit of just $1.5MM through the 2023-24 season. The deal, signed in August, was after a rookie season that saw him score nine goals and 24 points in 52 games. This year he's fired well past those marks, already racking up 21 goals and 37 points in 55 games.
That kind of an asset isn't usually one that a struggling team trades, though the Blackhawks' new management, led by general manager Kyle Davidson, has been clear that there is a full rebuild coming in Chicago. Trading Hagel now, when he very well might be at the peak of his value (but not necessarily his production), will give that rebuild a kickstart, even if it does mean they lose some prime, inexpensive years of a homegrown talent. Despite being selected by the Buffalo Sabres in 2016, Hagel waited and signed his entry-level contract with the Blackhawks two years later, and has only ever played for that organization.
Still, for a package of picks and players like this, it is easy to understand why Davidson pulled the trigger for his first trade since losing the interim tag and being officially named general manager earlier this month. The team had gutted their own system through previous acquisitions like the Seth Jones trade from last summer and it will likely be several years until they are truly considered playoff contenders again. If they are moving Hagel they are likely willing to trade just about anyone on the roster for the right price.
For the Lightning, they have no one to imitate but themselves when it comes to trade deadline moves. This deal is extremely similar to the one that landed them Blake Coleman two years ago, which–along with the addition of Barclay Goodrow–made their forward group incredibly deep and ultimately helped them win back-to-back Stanley Cup championships. Like Coleman, Hagel may be slightly undersized but plays a versatile, in-your-face game that can work in basically any spot in the lineup.
Even better, while Coleman was under contract for just one more season following that 2019-20 campaign, Hagel won't even be an unrestricted free agent when his current three-year deal ends in 2024. He'll still be an RFA at that point, meaning the Lightning have even more control. His extremely low cost means that he won't negatively affect the Lightning's cap situation, one that is always tight as they often find themselves in long-term injured reserve and in need of inexpensive options. In fact, simply moving out Katchouk and Raddysh makes the cap work for Tampa Bay, thanks to how cheap Hagel is.
While collecting draft picks is one thing, Davidson will soon have a bigger task on his hands than sending assets out the door. The Blackhawks are going to need to not only find the right players in the draft–the picks from Tampa Bay are certainly not expected to be very high, and even in the case that Tampa falters, the picks are top-ten protected–but also develop them into legitimate NHL talents. That work has already been mostly completed with Katchouk and Raddysh, who were both second-round selections and have been regulars this season in the Lightning lineup.
That's not to say either of them will bring the level of offense Hagel had, though there are certainly some interesting aspects to the new Chicago forwards. For one thing, Raddysh isn't heading into a room of unknowns, as he played on a line with Alex DeBrincat and Dylan Strome for the Erie Otters. He's also been developing quite nicely in the Lightning system and, standing 6'3″, brings size that Hagel never could. Raddysh has five goals and 12 points in 53 games with Tampa Bay this season, though that comes while averaging just barely over 11 minutes a night.
Katchouk is another big, powerful forward, and another OHL graduate, this time from the Soo Greyhounds. He has two goals and four points in 38 games with the Lightning this season, averaging under ten minutes a game. Notably, though he has played 20 fewer games than some of his teammates and rarely sees the ice when he does get in the lineup, Katchouk ranks third among all Tampa Bay forwards in hits with 98. It will be interesting to see if size becomes a trademark of the Blackhawks under Davidson, given the first player out the door is a 5'11" 174-lbs winger, albeit one that has never shied away from contact or the physical side of the game.
Frank Seravalli of Daily Faceoff was first to report that Hagel had been traded, while John Buccigross of ESPN provided the specific details. 
Photo courtesy of USA Today Sports Images