As the calendar turns to March, the trade deadline is inching closer. Where does each team stand and what moves should they be looking to make?  We continue our look around the league with the Los Angeles Kings.
After three straight seasons languishing at the bottom of the NHL's Pacific Division, the Los Angeles Kings' long-term plan under GM Rob Blake seems to be finally starting to bear fruit. The Kings are currently sitting second in the Pacific, ahead of the rival Vegas Golden Knights, and have been a surprisingly competitive team this season, with many of their players either having resurgent seasons or reaching new heights in terms of production. This has led to a shift in approach towards the trade deadline for the Kings. Whereas most observers probably would not have expected the team to be too active beyond some light selling, the team's performance this year has vaulted them into definite buyer status. They're probably not going to go big-game hunting and be mortgaging their future for an expensive rental, but fans should expect the team to at the very least be engaged in the conversation surrounding potential reinforcements for their squad.
Record
32-19-7, 2nd in the Pacific
Deadline Status
Buyer (but not an all-in buyer)
Deadline Cap Space
$6.3MM today, $6.3MM in full-season space, 47/50 contracts used, 1/3 retention slots used
Upcoming Draft Picks
2022: LAK 1st, LAK 2nd, PIT 3rd, LAK 4th, LAK 5th, LAK 6th, LAK 7th
2023: LAK 1st, LAK 2nd, LAK 3rd, PIT 3rd, LAK 4th, LAK 5th, LAK 6th, LAK 7th
Trade Chips
Despite having scored three goals in the past two games, Andreas Athanasiou is a potential candidate to be traded at this deadline. After a moderately successful season last year where he posted 10 goals and 23 points in 47 games, Athanasiou has filtered in and out of the lineup and been unable to show any consistency. His raw numbers of 12 points (including eight goals) in 21 games aren't bad, but it's clear coach Todd McLellan doesn't trust him to be a lineup staple, and his current slot as the left winger on the Phillip Danault line is a spot he's set to lose once Viktor Arvidsson returns from injury. The whole situation, combined with Athanasiou's expiring $2.7MM cap hit, makes him the perfect candidate to be traded at this deadline, and he would specifically fit as a means of balancing salary if the Kings pursue an expensive veteran addition. Athanasiou on the ice offers blazing speed and potential 30 goal upside (he scored 30 in 2018-19) but his inability to put together his rare tools into a consistent complete package means his days in Los Angeles are likely numbered.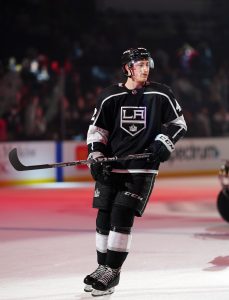 Should the Kings pursue a major player at the deadline, one of the likelier pieces for the selling club to receive from Los Angeles is 2017 11th overall pick Gabriel Vilardi. Vilardi, 22, is a big center who has struggled with injuries throughout his career, both as a professional and when he played in the OHL. Vilardi has been productive this year with the AHL's Ontario Reign. He has 15 goals and 37 points in 37 games, and he flashed that skill at the NHL level last season when he had 10 goals and 23 points in 54 games. Vilardi profiles as a potential top-6 center and should be able to help the Kings acquire a valuable veteran player should the team choose to go down that route.
If the Kings want to go a cheaper route when acquiring reinforcements for their squad, they could potentially trade a less important young player such as Carl Grundstrom. Grundstrom, 24, came to Los Angeles as part of the Kings' trade of Jake Muzzin and has been a regular member of their bottom-six for the past two seasons. Offensively he doesn't jump off the page, with 11 points in 34 games this year and 11 points in 47 last year, but he was once a highly-regarded two-way prospect and perhaps another team could view him as a piece with more upside to be unlocked. He's the kind of player who may fit as in player-plus-pick deal for a less in-demand veteran due to him being a capable NHL player under the age of 25 with some pedigree as a former well-regarded prospect.
Others to watch for: F Lias Andersson, D Olli Maatta, F Alex Turcotte
Team Needs:
1) Scoring/Power Play Help
Beyond Anze Kopitar's 51 points in 58 games, the Kings are missing a slam-dunk scorer and instead rely on a more offense-by-committee approach. That has worked for them pretty well so far this year, especially as the Arvidsson-Danault-Trevor Moore line has emerged as an absolute force, but there is still room for improvement. The Kings' power play ranks 5th-worst in the NHL, at 16.4%, the lowest mark for any team currently sitting in playoff position. For the team to be truly considered a playoff contender they need to improve their scoring, and to do that they can add a proven scorer or even a powerplay specialist, like the Arizona Coyotes' Phil Kessel, for example. But regardless of what direction Blake chooses to go at the deadline, it's clear that improving the power play should be a priority.
2) Defensive reinforcements
Just as the Kings' power play has struggled, their penalty kill has been similarly bad. The team currently kills off 75.8% of opposing power plays, 8th-worst in the NHL. The Kings' defense has a star in Drew Doughty and veterans such as Maatta and Alexander Edler, but beyond that trio, their defense is missing pieces with much NHL experience or an accomplished defensive resume. Playoff hockey is extraordinarily difficult and physically intense, and the Kings' defense might not be equipped to hold up to that pressure. Adding a veteran defenseman or two to take the load off of young players like Sean Durzi and Tobias Bjornfot could be a very helpful move as the Kings look to cement their status as a playoff team down the stretch.
Photo Courtesy of USA Today Sports Images