With the trade deadline quickly approaching, we continue to profile players in the weeks ahead that have a good chance to be dealt by February 25th.
Three years ago, Ben Lovejoy had a strong postseason with the Penguins during their run to the Stanley Cup.  While he isn't quite the player he was then, he's still a veteran player that can kill penalties and has a fair bit of playoff success under his belt.  With that in mind, New Jersey will probably be getting some calls for his services if they haven't already.
Contract
Lovejoy is in the final season of a three-year, $8MM contract that he signed following that Stanley Cup run.  He has a salary of $2.75MM with a $2.67MM AAV and will be an unrestricted free agent at the end of the season.  There is no trade protection in the deal.
2018-19
His performance over his career hasn't been particularly flashy from game-to-game as he's an old-fashioned stay at home defenseman and this year has been no exception.  Lovejoy has largely been a regular on New Jersey's third pairing and has been a fixture on the penalty kill, logging nearly four minutes a night in that regard.  He has shown that he's still a capable shot-blocker, slotting second on the team with 77.  He isn't producing much offensively (he never does) but the 35-year-old is still serviceable in his own end.
Season Stats
51 GP, 2 goals, 5 assists, 7 points, +1 rating, 33 PIMS, 70 shots, 17:35 ATOI, 48.8 CF%
Potential Suitors
There aren't many playoff-bound teams that would be slotting Lovejoy in as a full-time regular.  However, as far as injury insurance or extra penalty killing help goes, he'd be a strong option for quite a few teams.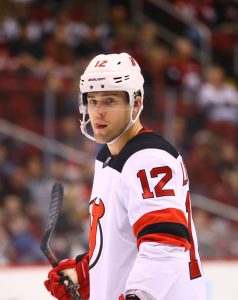 In the East, Toronto has been looking for a right-shot blueliner that could kill penalties even before their acquisition of Jake Muzzin (a lefty).  While GM Kyle Dubas has said he'd prefer to avoid the rental market, this would be an easily-affordable acquisition as they have plenty of cap room to work with for this season and the acquisition cost shouldn't be steep.  Montreal could be seeking some insurance with youngster Noah Juulsen potentially out for the season.  Tampa Bay is likely setting their sights on a top-four blueliner at the moment but if they can't add one, this is the type of fallback they could be looking for.  Pittsburgh could make some sense as they wouldn't mind adding another depth piece but the Devils would have to retain for the Penguins to be able to fit him in on the cap.
Out West, the Stars don't have great defensive depth on the right side to the point where Lovejoy could very well crack their top six.  GM Jim Nill is likely looking to make more of a splash but if they can't do that, they could turn towards adding some depth pieces (using LTIR to free up some cap room).  The injury to Ian Cole in Colorado has left them down their top shot-blocker which could create a short-term opening for Lovejoy and with the Avs being on the outside looking in, this may be the type of marginal upgrade that GM Joe Sakic could justify making without affecting their future.
Likelihood Of A Trade
Considering New Jersey decided to sit him for their last game as a healthy scratch to avoid the risk of injury, it's pretty clear that they think they'll be moving Lovejoy shortly.  The return may not be particularly high but it appears that he'll be in another uniform come Monday.
Photo courtesy of USA Today Sports Images.