With the trade deadline quickly approaching, we will be profiling several players in the weeks ahead that have a good chance to be dealt by February 25th.
While things haven't gone particularly well for the Red Wings this season, the same can't be said for Gustav Nyquist.  Detroit is going to be on the outside looking in at a playoff spot but it hasn't been because of the winger who is in the midst of a career season which makes him a very intriguing candidate for a contender.
Contract
Nyquist is in the final season of a four-year, $19MM contract with an AAV of $4.75MM and a salary of $5.5MM.  The pending unrestricted free agent also has a full no-trade clause.
2018-19
Nyquist had a down 2017-18 campaign but that certainly hasn't carried over to this season.  He has been one of their top offensive threats all season long and has already surpassed his point total from a year ago.  In fact, he's on pace for a career high in points if he can stay healthy down the stretch.  What's particularly noteworthy is that he isn't lighting up the scoresheet with the man advantage.  While he has more power play points than he did all of last year (11 to 8), he's still doing a lot of damage at five-on-five.  After entering the season as a second liner, Nyquist has shown that he can still thrive in a top role which will make him that much more appealing to contenders.
Season Stats
57 GP, 14 goals, 33 assists, 47 points, -1 rating, 6 PIMS, 146 shots, 18:04 ATOI, 53.5 CF%
Potential Suitors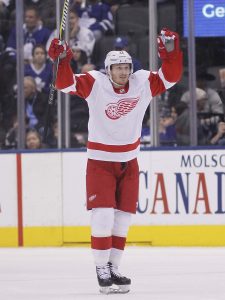 In the East, several Metropolitan teams look like strong suitors.  The Blue Jackets could have a need for him if they wind up moving Artemi Panarin as they'll likely be looking for someone to replace him to help with their postseason aspirations.  The Islanders continue to sit atop the division but could certainly benefit from some extra firepower as they're one of the lowest-scoring teams in the conference.  The Penguins are always on the lookout for more scoring help and while they can't afford to take on his salary outright, GM Jim Rutherford has shown himself to be creative when it comes to freeing up cap room.
In the Atlantic, Boston has been targeting a top-six winger since the beginning of the season and would certainly have interest as he'd slot in nicely behind David Pastrnak.  Tampa Bay doesn't have a direct need for more scoring but they're all in this season and with that in mind, they could look to load up even further.
Out West, Winnipeg is known to be looking for help on the wing while the Predators will undoubtedly be in the mix as well as those two rivals look to try to one-up each other.  Dallas could certainly use someone to take some of the load off of their top three scorers so they'll likely be in the mix as well as.  San Jose and Calgary have had no issues scoring this season so they may not be as inclined to look at Nyquist unless, like Tampa Bay, they decide they're best off simply loading up with as much talent as possible.  Overall, the fit appears to be better in the East than it does in the West.
Likelihood Of A Trade
Compared to other rentals, this one is far from a slam dunk.  Detroit's asking price is believed to be a first-round pick but there aren't many of those believed to be available and there are more prominent players that could be dealt so unless that price goes lower, there may not be much interest.  The Red Wings have also expressed an interest in signing him to an extension so it's also possible that they lock him up and forego dealing him altogether.  Nyquist would be a significant addition to any contender but it's far from a guarantee that he'll be on the move.
Photo courtesy of USA Today Sports Images.