With the trade deadline quickly approaching, we will be profiling several players in the weeks ahead that have a good chance to be dealt by February 25th.
Minnesota forward Charlie Coyle has been in trade speculation for several years now and every time it looks like a deal could be close, it doesn't come to fruition.  However, now that ownership has given the green light to make some bigger moves even if it results in the team taking a step back short-term, Coyle's name will once again be at the forefront of talks with several teams.
Contract
Coyle is signed through 2019-20 with an AAV of $3.2MM.  However, the actual dollar cost is higher in both years.  He's making $3.75MM in salary this season and $4.25MM next year.  Coyle will be an unrestricted free agent at the end of the deal which does not hold any trade protection.
2018-19
Coyle's season has been a lot like his 2017-18 which is a bit of a mixed bag.  There are times where he has been an impact producer but there have been long stretches where he has been quiet as well.  He has primarily been used in a top-six role and has shifted between playing the right wing and center depending on Minnesota's injury situation.  That versatility will be intriguing to teams but at the same time, going back and forth between the two likely hasn't helped Coyle either.  Coming into the season, the 26-year-old was looked at as a potential bounce-back candidate but the way it has gone so far, he may need a change of scenery for that to actually come to fruition.
Season Stats
58 GP, 10 goals, 18 assists, 28 points, +2 rating, 16 PIMS, 110 shots, 17:06 ATOI, 50.7 CF%
Potential Suitors
Unlike the many players with expiring contracts that will be limited to just playoff-contending teams as suitors, the fact that Coyle is still fairly young and locked up for another year really opens up more options for Minnesota to pursue.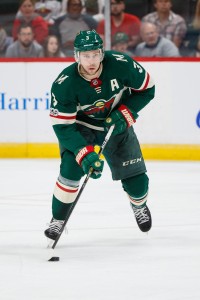 In the East, Boston was linked to him back in November and they still haven't addressed their vacancies up front so it's quite probable that they remain in the mix.  They also have several young forwards that could be of interest to Wild GM Paul Fenton in return.  Montreal has been tossed around as a potential suitor for Coyle for years so it wouldn't be surprising to see them involved as well.  Buffalo has three first-round picks at their disposal and while they may not want to deal one for a rental, they may be willing to do so given that he's signed for another year at a pretty good rate.  Carolina and Minnesota discussed other players at the time of their Nino Niederreiter–Victor Rask swap and with the Hurricanes still looking for forward help, Coyle was likely in those talks back then and the two sides could circle back to those now.  Flyers GM Chuck Fletcher opted to hold onto Coyle when he was GM in Minnesota which is a sign that he is a fan so he may try to work out a deal for him as well.
Out West, Nashville and Calgary have been looking for forward upgrades and have the long-term salary cap space to fit in his salary for next season.  (Winnipeg doesn't so they're not likely a fit here.)  Colorado is a team that appears to be hesitant to make a move for a rental but having Coyle for another year should pique their interest.  Edmonton could use all sorts of help on the wing but they'd need to find a way to move out some salary the other way in order to get a deal done while Anaheim, who could also use some new blood on the wing, is in a similar situation.  Dallas is in dire need of offensive help so they will undoubtedly inquire as well.  Between the two conferences, there are plenty of potential fits for a trade.
Likelihood Of A Trade
Considering the number of times that a Coyle trade looked likely but didn't actually happen, a deal is far from a guarantee.  However, the odds are probably higher now than they've been for quite some time.  Fenton has the green light to shake things up and with Coyle's cheap cap hit and the extra year of control, he'll be one of the more sought after players in the coming days.  If the Wild can get a bidding war going, they could wind up with a very strong return.
Photo courtesy of USA Today Sports Images.