With the trade deadline quickly approaching, we will be profiling several players in the weeks ahead that have a good chance to be dealt by February 25th.
Things haven't gone particularly well for Marcus Johansson since being dealt to New Jersey two summers ago.  He has considerable trouble staying healthy and his production has dipped relative to how he performed in Washington.  That said, the 28-year-old still could be one of the more under the radar targets around the league over the next couple of weeks.
Contract
Johansson is in the final season of a three-year, $13.75MM contract that carries an AAV of $4.583MM and a $4.75MM salary.  He has a five-team no-trade clause and will be eligible for unrestricted free agency at the end of the season.
2018-19
Let's get the bad out of the way first.  After missing the majority of last season with multiple concussions, he has already missed a dozen games with a couple of injuries.  Durability wasn't a major concern over his last few years with Washington but it has been now.  On top of that, Johansson didn't play particularly well early on and was even spending time on the third line.  That's a far cry from being the reliable and consistent producer that he was with the Capitals.
Lately, though, Johansson has played a lot better.  Injuries have forced him into a bigger role and to his credit, he has stepped up which should boost his value around the league.  Over the past month, he's logging over 18 minutes per night and between that and his versatility (he can play all three forward positions), he's positioning himself to be an intriguing addition for some playoff-bound teams.
Season Stats
41 GP, 8 goals, 12 assists, 20 points, -11 rating, 8 PIMS, 84 shots, 16:06 ATOI, 49.7 CF%
Potential Suitors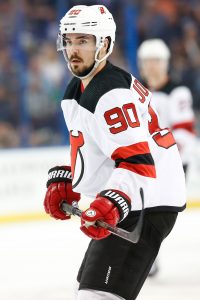 With Johansson's contract being an expiring one, only playoff-bound teams (or ones with postseason aspirations) are likely to have interest in acquiring him.  On top of that, his cap hit will also limit his suitors unless the Devils are willing to retain a portion of his contract (they can hold back up to 50%).
In the East, Pittsburgh doesn't have the cap space to take on his full deal but they'd be an intriguing fit.  The Penguins are still searching for the right wingers alongside Sidney Crosby and given Johansson's ability to play both sides, it's possible he could get a shot there which would be a significant boost heading into free agency.  If Buffalo decides to try to add a player or two to give them some more firepower up front, they would be a good fit for Johansson as well.  Columbus could be looking for a short-term addition as well depending on what happens with Artemi Panarin so they could be involved here while if the Capitals could find the money, they'd be a dark horse as well.  (However, given their cap constraints, Andre Burakovsky would need to be a part of the deal with the Devils also retaining a sizable chunk of Johansson's deal.)
Given his style of play, I think Johansson's a better fit in the East but a handful of Western teams make sense as a fit.  San Jose may want to shift Marcus Sorensen back onto the fourth line which would open up a spot for Johansson on their third line but again, the cap will make it a little tricky.  The recent injury to Mikko Koivu in Minnesota opens up a big hole for them to try to fill and while Johansson can't cover the defensive element that Koivu brings, he'd at least replace some of the offense.  Vegas will also probably be on the lookout for extra forward depth and will be limited to the rental market with their upcoming extensions.  GM George McPhee also has some familiarity from his time in Washington.
Likelihood Of A Trade
With New Jersey being well out of the postseason picture, the odds of Johansson getting dealt have to be high.  He's not among the top rental players available but his recent play and versatility will make him an enticing piece for teams looking to add for the stretch run.  The contract may wind up limiting the return but the Devils should still be able to get a decent draft pick or prospect for Johansson.
Photo courtesy of USA Today Sports Images.