With the trade deadline quickly approaching, we will be profiling several players in the weeks ahead that have a good chance to be dealt by February 25th.
Mats Zuccarello has had a tough season.  Staying healthy has proven to be troublesome for him and as a result, his value around the league appears to have taken a hit.  However, when he has been in the lineup, he has been fairly productive, especially in recent weeks.  The 31-year-old may not be a top liner at this stage of his career but he could very well bolster a second line and provide a contender with a nice offensive boost for the stretch run.
Contract
Zuccarello is in the fourth and final year of his contract, one that carries a $4.5MM cap hit and an identical salary.  He's slated to be an unrestricted free agent in July.
2018-19
Coming into this season, Zuccarello was one of the more durable players around the league having played in 396 of a possible 410 games over the past five seasons.  However, he missed the better part of a month with a groin injury and just recently missed time with a foot infection.  While he's back now, the issue is reportedly going to linger for the time being.
The Norwegian winger has been on a nice little run as of late, however, which might help improve his value.  He has picked up at least a point in six straight games to bring his point-per-game average to 0.75 which ties for the second-best mark of his career.  He's also logging the highest ATOI of his career while taking a regular turn on the penalty kill.  When Zuccarello is healthy, he's making an impact.
Season Stats
36 GP, 8 goals, 19 assists, 27 points, -12 rating, 22 PIMS, 67 shots, 19:19 ATOI, 48.1 CF%
Potential Suitors
While there are a handful of impact rentals out there, many teams will ultimately be priced out of going after those players and instead will be forced to turn to their Plan B.  There's a very good chance that a few teams will have Zuccarello as exactly that.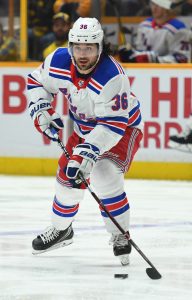 In the East, Boston has been looking for a top-six right winger for a long time and he'd certainly provide them with a more proven option than the youngsters that have been hot or cold in that role.  If Columbus ultimately decides to move Artemi Panarin, they could turn to Zuccarello as a replacement and he has played for John Tortorella in the past.  If GM Jeff Gorton is willing to trade with his state rival, the Islanders could be an intriguing team to watch for as Zuccarello could be someone that's affordable enough for Lou Lamoriello to take a run at.
While Zuccarello's stature wouldn't be viewed as an asset in the more physical West, there will still be interested teams.  San Jose is clearly going for it this season and they don't have the top picks available to use for the top rentals so this is more the tier they'll be shopping in.  However, they don't have the cap room to absorb his full contract.  Nashville could stand to upgrade their winger depth, especially with Austin Watson suspended indefinitely.  With the number of extensions kicking in next season, Vegas will likely be forced to focus on the rental market and considering where they are (only their second season of existence), it's hard to imagine them being willing to part with top picks or prospects for the best rentals so they will also probably be shopping in this tier.
Likelihood Of A Trade
Zuccarello hasn't exactly hidden his desire to remain with the Rangers.  However, with New York squarely in the middle of a rebuild, it doesn't make a lot of sense for them to lock him up now unless he's willing to take a bargain contract.  That probably isn't going to be in the cards so unless his foot issue turns into something more significant over the next three weeks, it's quite likely that he'll be on the move by deadline day.
Photo courtesy of USA Today Sports Images.