While all of the focus may be on Taylor Hall as the top player headed for unrestricted free agency, the Metropolitan Division-leading Washington Capitals have two big names of their own on expiring deals. Braden Holtby is in the final year of his deal and could be the next goaltender to land a huge contract on the open market, and franchise icon Nicklas Backstrom is about to see his current 10-year contract come to an end with the only team he's ever known. Backstrom notably is negotiating with the Capitals on his own and as Samantha Pell of the Washington Post reports, the two sides are still trying to find common ground when it comes to contract length.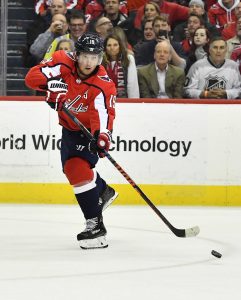 Pell suggests that the 32-year old Backstrom would prefer a five-year term, while the team may be looking at a three-year deal for their long-time center.
Since being selected fourth overall in 2006, Backstrom has been nothing but outstanding for a Capitals organization that put faith in him from the very beginning. Debuting in the NHL during the 2007-08 season, the slick playmaker recorded 69 points in 82 games and established himself as a star right out of the box. In the decade plus since, Backstrom has been a consistent presence at the top of the lineup, scoring at nearly a point-per-game over more than 900 contests.
If he can stay healthy, Backstrom will likely hit the 1,000 point and 1,000 game mark next season, be it in Washington or elsewhere. He's still playing at a high level and impacting the game positively, though any team would have to move forward with caution given his age.
Having just turned 32, any contract extension at this point is buying years of decline and could bite the Capitals if there is a precipitous drop in his effectiveness. The team is already dancing with the salary cap ceiling and notably has another big contract nearing its conclusion. Alex Ovechkin's 13-year, $124MM deal comes to an end after the 2020-21 season, the same time that young snipe Jakub Vrana will be looking for his final deal as a restricted free agent. Any deal for Backstrom (or Holtby, for that matter) will impact how much flexibility the Capitals have down the road, though at this point it seems both sides are on track to work something out.
Photo courtesy of USA Today Sports Images