While the Montreal Canadiens have been better than many might have expected this season — they started off pretty well and are ahead of six teams in the standings, double-digit points out of the fight for the best chance at Connor Bedard — injuries have absolutely decimated whatever chance they may have had at staying on the periphery of the playoff chase.
Beyond the long-term, likely career-ending injury to Carey Price that has landed him on long-term injured reserve, the Canadiens have a whopping seven players on injured reserve and two in addition to Price on the long-term injured list. The players on those injured lists are star winger Cole Caufield, first-overall pick Juraj Slafkovsky, veteran Brendan Gallagher, talented rookie Kaiden Guhle, Sean Monahan, Jake Evans, Chris Wideman, Paul Byron, and Arber Xhekaj.
In addition to the players on the injured lists, there's also Joel Edmundson, who remains on the active roster but hasn't played in a month due to injury, leaving the Canadiens further depleted on their back end.
While these injuries have led to some interesting revelations, such as the impressive play of rookie Rafael Harvey-Pinard, they are also quite the frustration for a team looking to use the 2022-23 season as a valuable year of player development.
Today, the Canadiens announced some injury updates on a few important players. Firstly, the Canadiens announced that Xhekaj will undergo season-ending shoulder surgery next week.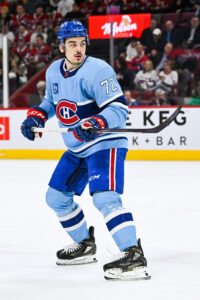 Xhekaj seemed to injure his shoulder during a fight with Edmonton Oilers rookie Vincent Desharnais, and that injury will now end what has been an exciting rookie season for the defenseman.
The undrafted blueliner has worked his way up to be quite the rookie surprise in the NHL, playing with the kind of physicality and snarl that made him an instant fan favorite for those who frequent the Bell Center.
He flashed some more skill and talent beyond just his physicality than one might expect, and his injury means the Canadiens' blueline and player development mission has been dealt a serious blow.
The one potential positive to note is that the Canadiens' organizational apathy to whether they win or lose games for the rest of the season (coach Martin St. Louis has continually stressed the importance of player development over bottom-line results) has afforded them the freedom to make decisions that are in the best interest of their players' long-term health.
Whereas a team in a Stanley Cup chase might hope that Xhekaj play through an injury in order to give their team the best chance at winning it all, the Canadiens can afford to let players such as Caufield and Xhekaj get a head start on their recoveries, which is definitely useful.
The second injury update the team issued is related to another breakout young talent: Kirby Dach. The team announced that Dach will not travel with the team to California, and will be out with a lower-body injury. Dach has been out since February 14th, with his absence first attributed to a non-COVID illness. The team then discovered that Dach's illness symptoms were actually consistent with the effects of a lower-body injury, meaning now the team has yet another injury to manage.
Dach has flown past the career-highs in scoring he set as a member of the Chicago Blackhawks, and was making some major steps forward in his game under St. Louis' tutelage. The Canadiens announced that Dach was out indefinitely with the injury, meaning the team will have to hope that he's not another player whose season will be cut short.
Another injury update the team issued was that veteran forward Joel Armia is out day-to-day with an upper respiratory infection. Armia, who hasn't played since February 21st, hasn't yet been placed on injured reserve, leaving hope that he can overcome this infection and return to the ice relatively quickly.
A final injury update the team issued regards Edmundson, who as mentioned has not played in a month. The team announced that Edmundson will travel to California, and is expected to be at practice Monday as he nears a return. At this point, Edmundson's return to the ice may be too late for him to figure in teams' trade deadline plans, but he should bolster a Canadiens' back-end that has looked quite a bit thinner due to injuries.
The Canadiens sent defenseman Corey Schueneman back to the AHL's Laval Rocket last night, lending to the belief that Edmundson is nearing a return to the ice. Shueneman played four games for the Canadiens during this call-up, registering one assist and averaging 15:48 TOI.
Photos courtesy of USA Today Sports Images