The Chicago Blackhawks have shuffled their roster, sending two young players (forward Lukas Reichel and defenseman Alex Vlasic) to the AHL while recalling a veteran (forward Buddy Robinson) to the NHL.
The move allows two of the team's more promising young players to join the AHL's Rockford IceHogs as they look to fend off a push from the Chicago Wolves for the final playoff spot in the Central Division, paving the way for the two to play a major role in any playoff series the IceHogs qualify for.
Since the Blackhawks have three games remaining on their schedule, though, an NHL replacement was needed, so the player chosen as the recall is Robinson, who was reassigned to the AHL by the Blackhawks on March 26th.
The biggest name of this group is Reichel, a 20-year-old German winger who was the 17th overall pick at the 2020 draft. While some of his fellow 2020 first-rounders have already played more than 100 games in the NHL, the rebuilding Blackhawks were more patient with Reichel's development, and that patience seems to have paid off.
Reichel was drafted so high on the back of a strong draft season playing pro hockey in the DEL for Eisbaren Berlin, where he scored 12 goals and 24 points in 42 games. While it was ten points less than third-overall pick and current Ottawa Senators star Tim Stutzle managed that same year, it's still an impressive feat for any draft-year player to be a productive regular in a professional league playing against grown men.
The Blackhawks opted to have Reichel spend 2020-21 with Berlin, and that choice paid off as Reichel scored 27 points in 38 regular-season games and five points in nine DEL playoff games.
That successful sophomore season in Germany's top pro league gave the Blackhawks the green light to bring Reichel across the Atlantic, and they allowed him to spend most of his year in the AHL, save for some brief cameos at the NHL level.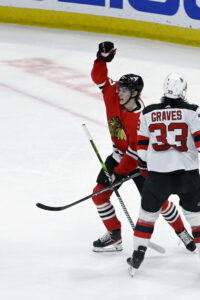 Reichel was a star AHL rookie, scoring 57 points in 56 games, an extremely strong number for a player who spent most of the season still in his teens.
This season, knowing that their roster was unlikely to provide Reichel the most comfortable developmental environment, the Blackhawks opted to keep Reichel in the AHL, and he scored well yet again, potting 46 points in 51 games.
A three-point performance in an overtime victory over the Calgary Flames likely gave Chicago increased confidence that Reichel might be ready for a more extensive stretch in the NHL, and they gave him just that in the month of March. Reichel began growing into more of a go-to option for head coach Luke Richardson, and he now likely finishes his season with a strong 15 points in 23 games.
If he can help Rockford go on a deep playoff run, or at least put some finishing touches on what has been a successful sophomore season, Reichel will likely enter next year's training camp with his spot on the team's NHL roster virtually guaranteed.
As for Vlasic, he's spent almost the entirety of the season with the IceHogs, save for the past two weeks or so that he's been on the NHL roster. The 21-year-old is a hulking six-foot-six blueliner who turned pro last season after three years at Boston University.
While there isn't a ton of offense to speak of (he scored 20 points in his NCAA career and has 17 in 52 AHL games this year) Vlasic is an imposing physical force with serious crease-clearing potential. He's been utilized as a top-pairing blueliner for the IceHogs, and the organization is hopeful that he can soon develop into an NHL option.
As for Robinson, he's a 31-year-old minor league veteran who has 60 NHL games on his resume. The six-foot-six crash-and-bang winger last played in the NHL in a March 25th, 3-1 loss to the Minnesota Wild and has not yet registered a point in seven NHL games this season.
With 20 points in 50 AHL contests, any NHL games Robinson can skate in during the remainder of the Blackhawks' season will be an important opportunity as his one-year league-minimum two-way deal is set to expire, meaning he'll want to put some quality play on tape before he possibly lands on the open market in a few months.
Photos courtesy of USA Today Sports Images