It's been a winding road during Brett Connolly's NHL career, but he's finally arrived somewhere he hopes to stay. The Washington Capitals forward spoke with Chris Kuc of The Athletic (subscription required) and indicated that he hopes to re-sign with the team and avoid becoming an unrestricted free agent. Connolly will turn 27 in early May and is the final season of a two-year deal he signed with Washington in 2017.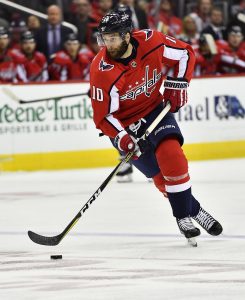 Arriving in Washington has been great for Connolly's career, and this season has been his best so far. With 16 goals and 35 points in 66 games he has already set new career-highs and is seeing more ice time than ever before. That comes after a Stanley Cup run with the team in just his second trip to the playoffs, one that saw him record nine points in 24 postseason contests.
Originally selected sixth overall by the Tampa Bay Lightning, Connolly played just 134 games for that organization before ending up with the Boston Bruins. After failing to receive a qualifying offer from the Bruins he landed in Washington as a player many saw as a bust given his high draft pedigree. Connolly had just 59 points through his first 210 NHL games and hadn't suited up for a single playoff game. With the Capitals that has all changed.
Unfortunately though, success comes at a price in the NHL. The Capitals are pushed right up against the salary cap ceiling this season and will have to make tough decisions this summer on how to move forward with this core. Players like Andre Burakovsky, Jakub Vrana and Christian Djoos are all restricted free agents that need new contracts, while the only money really coming off the books is a few million owed to Brooks Orpik and Carl Hagelin. If Connolly is looking for a raise after his career season there may just not be enough room to fit everyone in.
Still, there are definitely ways to keep Connolly in the picture and at his relatively young age the Capitals will likely explore every opportunity. Those discussions will be up to GM Brian MacLellan to start, as Connolly and agent Gerry Johannson have decided to wait for the Capitals to approach them—something that does not appear to have happened yet.
Photo courtesy of USA Today Sports Images