The Ottawa Senators have had trouble over the years retaining the talent they develop, with earlier this week being the latest example. Though they reportedly discussed an extension with Jean-Gabriel Pageau, the two-way center was eventually traded at the deadline only to immediately sign with the New York Islanders for six more seasons. One could be skeptical then when Pierre Dorion tells TSN radio that he wants Mark Borowiecki to be a "Senator for life."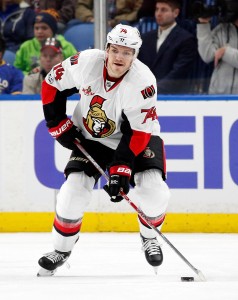 Perhaps Borowiecki is different though. The 30-year old defenseman was a fifth-round pick by the Senators back in 2008 and slowly made his way up the hockey ladder. Originally thought of as just a physical presence in Ottawa's lineup, he has become much more than that this year, establishing himself as a leader on and off the ice while also experiencing his best offensive season to date.
Though he has seven goals on the year—nearly doubling his previous career total—it's still hard to envision that Borowiecki would price himself out of the Senators' market by the end of the year. Currently in the final season of a two-year, $2.4MM deal he can expect a small raise but not even to the level of some other Senators' players.
Not only is Borowiecki a leader for the Senators, but his influence on the Ottawa community has been felt as well. The hometown boy gained national notoriety when he was involved in stopping a crime in Vancouver, but citizens of Canada's capital will tell you stories of him helping regular folk on a regular basis.
An unrestricted free agent in July, it's hard to imagine Borowiecki in any other jersey at this point in his career.
Photo courtesy of USA Today Sports Images