After more than a decade in the organization and endless work in the community, Mark Borowiecki appears to be headed for a breakup with the Ottawa Senators. The veteran defenseman is scheduled to become an unrestricted free agent this offseason and as Hailey Salvian of The Athletic reports, he'll be "testing the waters" and is expected to go in a different direction.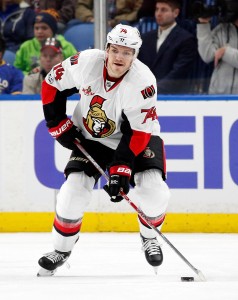 Borowiecki, 31, always seemed like he would be a Senator for his whole career, given the obvious connection he had with ownership and the comments made by GM Pierre Dorion just a few months ago. After Borowiecki was not dealt at the trade deadline, Dorion told TSN radio that he wanted the depth defenseman to be a "Senator for life." Unfortunately, even then it was easy to be skeptical about those comments given how the team had treated other core players over the years.
It's not just the fact that Borowiecki has been a hard-nosed defenseman with 375 games under his belt for the franchise, but he has become something of a folk hero in the community. While his robbery-foiling happened in Vancouver, there are countless other stories of him helping people in Ottawa in one way or another. His wife, Tara Borowiecki, is actually on the board of directors for the Ottawa-Gatineau Youth Foundation, a charitable organization that used to be known as the Sens Foundation before it split from the franchise.
Borowiecki is coming off a two-year contract that totaled $2.4MM and it's hard to see him earning a lot more than that moving forward. Even though he's been a regular in the Ottawa lineup, he still does have poor possession stats and doesn't contribute much at the offensive end. For a team looking to add some bite to their lineup, he could be an option. Borowiecki has recorded more than 1,500 hits in his 375 games and blocked 120 shots this season for the Senators.
Photo courtesy of USA Today Sports Images