The Ottawa Senators will be going in a different direction between the pipes next season. Today, while speaking to reporters including Bruce Garrioch of Postmedia, Senators GM Pierre Dorion confirmed that the team will not be extending a contract offer to Craig Anderson (or Mark Borowiecki, whose agent already broke that news). Anderson will become an unrestricted free agent next month when his current deal expires.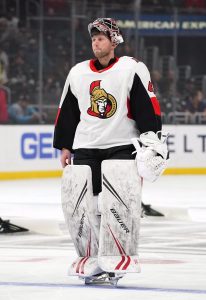 Even as he announced that he wouldn't be re-signing him, Dorion called Anderson the best goalie the Senators have ever had. That's hard to argue, given Anderson's place on the all-time Senators goaltending lists. After a decade with the team, he ranks first in games played (435), wins (202), saves (12,447), save percentage (.914, minimum 50 starts), points (11) and second in shutouts (28). While you could argue that Dominik Hasek's short stint with the team represented the best goaltending play the franchise has ever received, no one else has come close to the consistency that Anderson showed over his ten years in Ottawa.
Now 39 and coming off a poor season, it was obvious the time to move on had come. The Senators are starting to head back up in their rebuild after gathering an elite prospect system and have some young goaltenders who may deserve an NHL opportunity before long. There's also still Anders Nilsson, who is expected to be ready for the start of next season and a free agent market full of players that could be short-term options.
Anderson, if he wants to continue playing, could be one of those short-term options available for other teams if they believe he can still be an effective backup. He has posted just a .901 save percentage over the last three years though, not exactly evidence of future success at the position.
Still, if this is the end of Anderson's career it will have been an excellent one. A third-round pick in 1999 and then again in 2001, he would finish with nearly 700 career games. His postseason performances have been excellent, posting a .929 save percentage over 46 appearances and helping the Senators come within a goal of the Stanley Cup Finals in 2017.
Photo courtesy of USA Today Sports Images