November 28: Murray has cleared waivers, per Bruce Garrioch of TSN and The Ottawa Sun. The team's assigned him to the Belleville Senators.
November 27: On Friday, Senators goaltender Matt Murray was a healthy scratch against Anaheim.  One day later, he has been placed on waivers for the purpose of assignment to AHL Belleville.
The 27-year-old is in his second season with Ottawa after they flipped a second-round pick and prospect Jonathan Gruden to Pittsburgh to get him back at the 2020 draft.  At the time, they felt they had their starting goalie of the foreseeable future, quickly inking him to a four-year, $25MM contract; his $6.25MM AAV is the sixth-highest in the league among goaltenders this season.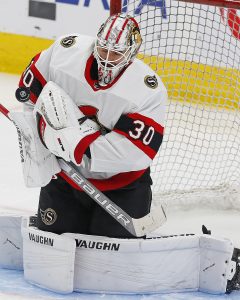 What have they received in return for that money?  Not a whole lot.  Murray struggled considerably last season, posting a 3.38 GAA with a .893 SV% in 27 games, the worst numbers of his career.  This season, those numbers aren't any better – a 3.26 GAA and a save percentage of .890 in six games.  Those numbers are below average for a backup let alone a starter.
Ottawa's decision to dress Anton Forsberg and Filip Gustavsson against the Ducks was a strong message from head coach D.J. Smith that he has lost faith in Murray.  At this point, getting him down to Belleville for a stint to try to give him an opportunity to find his game again against lower-level competition certainly makes some sense.
Postmedia's Bruce Garrioch suggests the Sabres and Coyotes could be teams to keep an eye on with regards to a potential claim.  Both teams have a need for a goaltender but with two years still left on his contract and both teams operating as lower budget squads, it's hard to imagine they'd be willing to take him off waivers with how poor he has performed in Ottawa.  A trade with retention after he clears and maybe some games in the minors would be a likelier scenario.
Assuming he does indeed clear on Sunday, the Sens will get a small bit of cap relief as $1.125MM of Murray's AAV will come off their books when he's sent down.  Of course, with Ottawa being a team that's closer to the Lower Limit of the cap than the Upper Limit, that relief won't be worth a whole lot to them but they'll be able to move forward with a Forsberg-Gustavsson tandem for at least the time being while giving Murray an opportunity to get back to form in the minors.
Sportsnet's Elliotte Friedman was the first to report that Murray would be waived.
Photo courtesy of USA Today Sports Images.