The offseason is now upon us with the Stanley Cup being awarded last week.  Having covered all of the teams that missed the postseason or were eliminated before the Stanley Cup Final, let's take a look at the teams in that final matchup.  After covering the Stars on Sunday, we wrap up our annual series with the Lightning.  The full series can be found here.

After being swept by Columbus last season, no one really knew what to expect from Tampa Bay this year.  Sure, on paper, they were just as strong as ever but look where that got them the year before.  GM Julien BriseBois added some sandpaper and some veteran defensemen and it worked out perfectly as they took out the Blue Jackets, Bruins, Islanders, and Stars to take home the title.  After a few days of celebration, it's all about tearing things down as the key to their offseason is simply freeing up cap space while keeping as much of the roster intact as they can.  Not surprisingly, each of the following keys revolves around that one element.
Navigate Trade Protection
There are some teams that rarely hand out any form of trade protection.  Tampa Bay is not one of them.  Of their seven highest-paid forwards, only one doesn't have the ability to at least block a trade to some teams and that's Brayden Point because he's simply too young to have one.  On defense, their top-three paid players have either a full no-trade clause or a full no-move clause.  One advantage of being in the market they're in is no state taxes which has allowed the Lightning to sign some of those players below market value.  The trade-off, however, is players getting some security in the form of trade protection.
Let's look at their cap situation quickly.  At the moment, they have just over $76MM in commitments to 16 players for next season.  However, they have several key restricted free agents to re-sign and have to fill out the rest of their roster as well.  One, if not two, high-salaried players will need to go.  Here's the listing of their veterans making $4MM or more and their trade protection:
F Nikita Kucherov – $9.5MM through 2026-27, NMC
G Andrei Vasilevskiy– $9.5MM through 2027-28 (too young for trade protection yet)
F Steven Stamkos – $8.5MM through 2023-24, NMC
D Victor Hedman – $7.875MM through 2024-25, NMC
D Ryan McDonagh – $6.75MM through 2025-26, NTC
F Brayden Point – $6.75MM through 2021-22 (too young for trade protection yet)
F Ondrej Palat – $5.3MM through 2021-22, NTC
F Yanni Gourde – $5.166MM through 2024-25, NTC
F Tyler Johnson – $5MM through 2023-24, NTC
F Alex Killorn – $4.45MM through 2022-23, 16-team NTC
Trying to convince one (likely two) of these players to waive their trade protection to leave a Cup-winning team to go somewhere where the tax situation may not be as favorable is where BriseBois finds himself right now.  This is something that's going to be much easier said than done in this cap environment.
Avoid Offer Sheet Risk
There are two notable restricted free agents that Tampa Bay has to try to re-sign with their limited cap space in defenseman Mikhail Sergachev and center Anthony Cirelli.  With their cap situation and limitations on moving money with all of the trade protection in place, both players are prime offer sheet targets if someone wants to try to force their hand.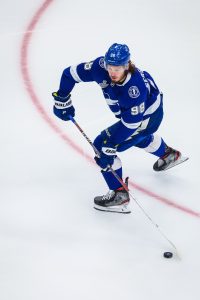 Sergachev has been steady offensively in his three seasons with the Lightning and wasn't asked to jump into a big role right away.  This allowed him to slowly develop his defensive game and the results were certainly promising this season.  He had a career-best 10 goals during the regular season while logging more than 20 minutes a night for the first time.  In the postseason, he chipped in with 10 more points and saw his playing time jump up to more than 22 minutes a game.  He's already a top-four defender and at 22 years of age, there is still plenty of room for continued improvement.  Sergachev is someone that should be a fixture on their back end as long as they can afford to keep him.
Meanwhile, Cirelli had a breakout year offensively with 16 goals and 28 assists in 68 games but that's not the only reason he'll be highly coveted.  The 23-year-old has already become a high-end defensive player and finished fourth in Selke Trophy balloting this season.  The various injuries throughout the season gave Cirelli a chance to showcase himself as a top-six forward and he made the most of it, sending notice around the league that he's ready for that role on a full-time basis.  Assuming Stamkos shifts to the wing more permanently next season, the Lightning should be able to give him that spot.
Even defenseman Erik Cernak could be someone that's targeted.  He doesn't have the best of offensive numbers but if there's a team that wants him in their top four, Tampa Bay may be hard-pressed to match.  Talks for offer sheets can begin on Friday so freeing up that cap space is something they'll want to do sooner than later if they can in order to give themselves a bit of leverage in talks with their youngsters.
Plan Ahead For Point
Point's three-year deal last offseason gave the Lightning some short-term flexibility and to their credit, they made the most of it, utilizing that space to add several key depth players that helped them win the Stanley Cup.  But he'll be eligible for a new deal starting next offseason and if an extension can't be reached, he'll enter the 2022 offseason one year away from UFA eligibility.
Needless to say, that's not a spot that they're going to want to be in with him.  Getting an early extension done will be a top priority a year from now but for them to be able to afford it (it should check in close to Kucherov's price tag), they're going to have to free up some cap room to have three players making that much money.
That's something that BriseBois will have in mind as he tries to navigate this tricky salary cap situation.  There are two windows to try to open up cap space for.  One is to simply be in compliance for next season but there will be even more motivation to try to clear out players signed beyond 2021-22 to give them the space needed to lock up Point as early as a year from now.
Photo courtesy of USA Today Sports Images.