The offseason has arrived for most squads.  Having covered the teams that weren't a part of the NHL's return and the ones ousted in the Qualifying Round and official first round, we shift our focus to the ones that were eliminated in the second round.  Next up is a look at Colorado.
Things were looking up for Colorado for most of the year.  They had a strong regular season and were dominant against Arizona in the first round.  However, by the time they got through the second round against Dallas who eventually eliminated them, they were down to their third-string goalie and had several other injuries which ended their year on a sour note.  Still, they're a team that's largely viewed as being on the rise and as a result, GM Joe Sakic's list of tasks this offseason has almost as much to do with the long-term outlook of the team as it does building for 2020-21.
Add Short-Term Help
As far as contenders go, Colorado is in great shape salary cap-wise for next season.  While they do have several regulars to re-sign, they have more than $22MM in cap room at the moment and won't come close to using all of it to re-sign their restricted free agents.  However, with some prominent players in need of new deals the following year (more on them momentarily), Sakic should be looking to prioritize adding expiring contracts to augment his roster for 2020-21.
That doesn't present a great situation when it comes to attracting free agents as most impact players won't want to sign a one-year deal and forego the stability that comes with a long-term contract even with it being a depressed marketplace.  In order to lure someone on a one-year pact, they'd likely have to pay higher than market value to bring that player in which is something they should be able to afford.
However, they may be better off taking advantage of the teams that need to clear out money and look to acquire a veteran or two with an expiring deal for a cheap return.  Colorado already has a top-five offense and defense based on goals scored and allowed so there aren't any glaring holes to try to fill.  Instead, shoring up their depth to better insulate them against another rash of injuries may be the smarter play.  If Sakic wants to go that direction, there should be some quality players available for bargain prices which would make an already strong team even better for next season.
Work On Long-Term Extensions
There are two top-end players for the Avalanche that will be entering the final year of their respective contracts next season in winger Gabriel Landeskog and defenseman Cale Makar.  Getting a deal done with one or both of them would give Sakic some much-needed certainty when it comes to planning for 2021-22 and if he can get one done in the next couple of weeks, it would even give him a bit more clarity as to whether or not he could try to add someone on a multi-year deal this offseason.
Landeskog saw his production dip this season although injuries and the pandemic certainly played a role in that.  Even so, he managed to put 21 goals and 23 assists in just 54 games which would put him at a 67-point pace over a full 82-game campaign.  Although he probably won't command as much as linemate Mikko Rantanen ($9.25MM), Landeskog still should get a sizable bump on his current $5.571MM price tag.  He's also still only 27 years old despite the fact that he already has nine NHL seasons under his belt so a max-term contract (eight years) is certainly a possibility.  It's going to cost a lot to keep that top line intact (which also features Nathan MacKinnon) but it's a price that they should want to pay to keep one of the best trios in the league around.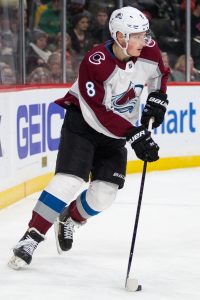 As for Makar, he's already entering the final year of his deal with only one season under his belt; the first season was burned in the 2019 playoffs when he got into ten games.  The Calder Trophy winner has very quickly become a significant part of their back end and with 50 points in 57 games this season, the offensive potential is quite tantalizing while he has the mobility to lead the rush at any time.  The 21-year-old certainly looks that the type of defenseman that franchises will want to build around so a long-term contract will certainly be the priority.  It might be a bit cheaper to sign it now as if his sophomore campaign sees him take a big step forward like many think he can, the price tag will only be higher next summer.
Goaltending Decision
On a team that allowed the fifth-fewest goals in the league this season, it's hard to say that there are questions regarding Colorado's goaltending but there are.  Philipp Grubauer set a new career high in starts this season but still only played in 36 games which is the workload of a platoon goalie on most teams, not a starter.  Pavel Francouz had a strong year but looked to wear down at times when he was asked to shoulder the lion's share of the workload.  Both are more than capable netminders but is this a tandem that can take them all the way?
There isn't much more time to find out either.  Grubauer is another player that's eligible for unrestricted free agency in 2021 and even though he hasn't quite cemented himself as a starter, he's probably going to be looking for a raise on his $3.33MM price tag.  Francouz, meanwhile, is only signed for one more year than Grubauer and will be unrestricted in 2022.  Internally, there isn't anyone that's expected to be an NHL starter within two years to plausibly fill one of those spots.  They have high hopes for Justus Annunen but he's a few years away from being ready.
This offseason has the feeling of musical chairs when it comes to the goaltending market.  There are free agents that will be changing teams while some teams have a netminder to trade.  If an opportunity to upgrade presents itself (or least provide a bit more long-term stability from a contractual standpoint), it may be wise for the Avalanche to get involved.  It would mean more money committed for 2021-22 when Makar and Landeskog's new deals will come into play but it would also give them some more stability at a position that has been somewhat in flux lately.  It's not something that has to be done but even with how well Grubauer and Francouz did this season, those questions about whether they can go deep in the playoffs with that tandem will only persist.
Photo courtesy of USA Today Sports Images.