The offseason has arrived for most squads.  Having covered the teams that weren't a part of the NHL's return and the ones ousted in the Qualifying Round and official first round, we shift our focus to the ones that were eliminated in the second round.  Next up is a look at Vancouver.
After a relatively quiet 2018-19 season, expectations weren't that high for the Canucks heading into this year.  They were a team that was definitely in the mix for a Wild Card spot but not many were expecting them to do a lot of damage.  Then came the bubble where Vancouver was one of the bigger surprises.  Following their victory over Minnesota in the Qualifying Round, they ousted the defending Stanley Cup champions in the first round and took Vegas all the way to seven games before they were eliminated.  Now, GM Jim Benning's key goals for this summer will be helping the team take that next step forward.  However, accomplishing that primarily means taking care of some of their own.
Clear Contracts
The list of notable free agents is fairly long and their cap situation, while not entirely dire, isn't good enough for them to keep everyone that they want to.  Yes, they have about $14MM to spend but need to sign a starting goalie, two defensemen, and three forwards with a pair of notable skaters in defenseman Chris Tanev and winger Tyler Toffoli among those that are slated to hit the open market next month.  There's enough room to keep some but certainly not enough to keep everyone.
That makes freeing up cap space extremely crucial for Benning.  While he has stated on multiple occasions that he doesn't want to part with future assets to free up cap space, he may have to do so as if he doesn't, an impact player is probably going to leave.
Who could they try to move to free up that space?  There are plenty of options.  Loui Eriksson has two years left at a $6MM AAV (tied for the highest on the team) but only $5MM left in money owing with his signing bonus already paid for next season.  Brandon Sutter is entering his final year with a $4.375MM price tag on the cap and $3.5MM in salary still owed.  Both players can still play in the NHL, albeit in limited roles.
A little farther down the list are winger Antoine Roussel and center Jay Beagle who both signed four-year, $12MM contracts just two summers ago.  They had the cap room to make those veteran additions now but shedding one of those deals would also give them a bit of flexibility.  Beagle is primarily a faceoff specialist at this point while Roussel, if healthy, can be an effective energy player in a bottom six.
At this point, it probably doesn't matter which one of those veterans gets moved out to give them some extra wiggle room to keep their core players.  The priority simply has to be freeing up cap space.  It may not be something that Benning wants to do but he likely will have to bite the proverbial bullet here.
Goaltending Decision
Toffoli and Tanev aren't the only UFAs of note that the Canucks have to contend with as starting goalie Jacob Markstrom is also less than two weeks away from hitting the open market.  While it has taken some time going back to his days with Florida, the 30-year-old has blossomed into a capable number one netminder and will be entering the market as one of the top options available.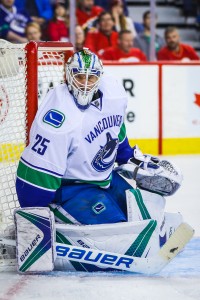 While he wasn't able to get to 60 games for the third straight season due to the pandemic and a knee injury, Markstrom still managed to put up a .918 SV% which was the highest of his career.  He did a bit better in the playoffs with a .919 mark in 14 games before a groin injury took him out and put Thatcher Demko into the starting role.
Demko was nothing short of spectacular and nearly single-handedly dragged Vancouver past Vegas before the Golden Knights edged them in that seventh game.  That presents a bit of a question for Benning.  Demko has long been viewed as their goalie of the future and might be ready for a bigger workload which is something that can't happen as long as Markstrom is in the fold.  And while it may be a bit early for teams to really be worrying too much about the expansion draft for the Kraken next year, Vancouver can only protect one goalie.  If Markstrom re-signs, it puts them in a likely situation of losing one of them for nothing a year from now.
While Markstrom won't be commanding the money that Sergei Bobrovsky did a year ago (seven years, $70MM), he should still be in line for a sizable raise on the $3.67MM AAV he had on this most recent deal.  It's possible that he could command somewhere between $5.5MM and $7MM which would take up a big chunk of that remaining cap room.  Benning will have to decide in the very near future if Demko is ready to be the starter and if not, he'll have to re-sign or replace Markstrom.
Extension Talks
The window to sign players to contract extensions has opened up and Vancouver has a pair of young stars that are a year away from needing new deals.  With how well both have performed already, there's certainly a case to be made that Benning should be looking to get deals done with defenseman Quinn Hughes and center Elias Pettersson before the price tag gets even potentially higher next offseason.  Doing so would also give them a better idea of their long-term financial picture which could come in handy when it comes to forecasting what they can spend on their current pending UFAs.
Hughes had a phenomenal rookie campaign and finished tied for fourth overall in league scoring by defensemen and was just two points behind Norris finalist Victor Hedman for the third spot.  That performance helped him finished second in Calder Trophy voting and he was even better in the playoffs when he finished third in scoring with 16 points (2-14-16) in 17 games.  Hughes isn't eligible for an offer sheet but that shouldn't affect things much.  On his next deal, he'll be setting the new benchmark for Vancouver's defensemen as he'll come in well ahead of Tyler Myers and Alexander Edler ($6MM each).
As for Pettersson, he has back-to-back 66-point seasons to start his career and has established himself as a capable front liner.  He has split time between center and the wing and that versatility will only make him more valuable down the road.  He may still have another level to get to offensively and it's safe to say he will be a forward that they will build around.  Like Hughes, he'll undoubtedly be setting the new high point for Vancouver's forwards as he'll surpass Eriksson's $6MM price tag.
Both players are franchise cornerstones so locking them up is going to be high on Benning's to-do list even though they don't necessarily have to sign new deals until 2021.
Photo courtesy of USA Today Sports Images.