The offseason has arrived for most squads.  Having covered the teams that weren't a part of the NHL's return and the ones ousted in the Qualifying Round and official first round, we shift our focus to the ones that were eliminated in the second round.  Next up is a look at Boston.
Things didn't go according to plan for the Bruins this season.  While they were the team to beat for most of the year before the pandemic hit, they never really found their stride after that.  They scuffled through the seeding games and while they were able to beat an upstart Carolina team in the first round, they were eliminated somewhat quickly by Tampa Bay in the second.  To be fair, they were without Tuukka Rask as he left the bubble early so GM Don Sweeney shouldn't be looking at any big shakeups but there are a few things he should be looking to accomplish in the coming weeks and months.
Shore Up The Left Side
There have been two fixtures at the top of the pecking order on the left side of Boston's back end for the past several years.  Torey Krug has been in that role for seven years while Zdeno Chara has spent the last 14 years in a Bruins sweater.  That consistency is about to change, however.  At this point, Krug is likely to test free agency where he'll be the top left-shot blueliner available and will garner plenty of interest with his offensive consistency.  Meanwhile, a return for Chara certainly isn't ruled out but he's 43 years old and his days of being a full-time player in the top four are over.  There's still a role that he can play in an NHL lineup but he's probably best utilized on the third pairing.
There aren't really any internal candidates that they should feel comfortable about when it comes to filling a high-minute role.  Matt Grzelcyk is serviceable and may be able to take on a slightly bigger workload but he's not going from 18 minutes a night to a top-pairing spot.  John Moore still has three years left on his contract but he hasn't been able to lock down a regular spot in the lineup since joining them two summers ago.  Urho Vaakanainen and Jakub Zboril were first-round picks but neither of them has been able to crack the NHL roster on a full-time basis so asking them to step into a big role isn't ideal either.
This is an area that will need to be addressed but free agent options are limited.  There are only six left-shot defenders that averaged over 20 minutes a night this season that will become unrestricted free agents and of those, Chara and Krug rank first and third on that list respectively in terms of ATOI.  Of the other four, two are role players in Ron Hainsey and Dmitry Kulikov.  Erik Gustafsson has shown some offensive prowess over the last two seasons but his output dipped sharply relatively to his 2018-19 campaign.  T.J. Brodie is the other one in that group and while he'll undoubtedly garner interest from Boston (and plenty of other teams), he has spent a lot of time lately on the right side of the back end.  Washington's Brenden Dillon just missed out on that minutes cutoff but he'll get consideration as well.  Beyond those players though, pickings are slim.  As a result, Sweeney may have to turn to the trade market to fill at least one of these two potential spots.
New Deal For DeBrusk
Winger Jake DeBrusk is Boston's most notable restricted free agent and also happens to be one of the more intriguing ones out of this class.  Statistically, his point total has dropped with each season from 43 points to 42 to 35 this year where his point-per-game average was the lowest of his three NHL seasons.  That's one way of looking at it.  The other is that he stepped into an NHL lineup at 20 and has scored at least 16 goals every year despite not seeing time on the front line.  There's a case to be made that the best is yet to come given his age and consistency; give him better linemates and the production should improve.  On the other hand, 200-plus games of statistically similar production is a notable sample size.  Management could certainly argue that he's shown that he's a capable secondary scorer but at this point, he's not worth getting paid more than that.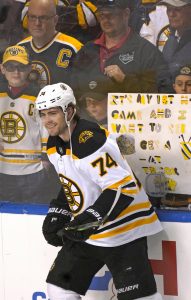 DeBrusk's agent has made it known that his client has no interest in taking any sort of hometown discount but this isn't really a situation where Boston is likely to look for one.  If they have eyes on making a big addition (or finding a way to get something done with Krug), they'll have to push for a short-term deal.  DeBrusk doesn't have arbitration rights so that's one piece of leverage that the team has.  On the other hand, if they think that he's a part of their long-term future, a small overpayment based on his current numbers to get him to buy out some UFA years could be justified if they think he can get to another level.
There is one other option, of course.  A 23-year-old with his offensive track record should catch the eyes of some teams looking to add to their depth up front.  With Boston's veteran core unlikely to be changed beyond their situation on defense, it's plausible to think that DeBrusk could wind up being one of their best trade chips (if not their biggest one) if Sweeney opts to go in that direction.  Over the next few weeks, the GM will have to figure out what he wants to do with his young winger.
Improve Secondary Scoring
This one has been pretty much an annual fixture on their to-do list but it isn't for a lack of trying.  In recent years, they've brought in Charlie Coyle, Nick Ritchie, and Ondrej Kase who all remain on the roster.  Before landing more controllable players, they tried Rick Nash, Marcus Johansson, and Drew Stafford as rental players near the trade deadline.  All have had varying degrees of success but the need persists.
Three forwards had at least 20 goals this season.  Those same three were the only ones to have more than 50 points.  They've been first through third in team scoring in each of the last three years.  Yes, Brad Marchand, David Pastrnak, and Patrice Bergeron have been quite good for quite a while but they were responsible for over 47% of Boston's goals this past season.  That's certainly an impressive performance on their part but it underscores the lack of secondary scoring.
Kase and Ritchie didn't exactly light it up upon being acquired but given that they were transitioning to a new team and had a lengthy stoppage in between, it wouldn't be fair to infer that they won't be able to produce once they've had a full training camp under their belts.  But at the same time, they can't be counted on to fill that void either.  The good news is that there are more of those types of forwards available than there are impact defensemen so this is something that Sweeney will have more options to address.  Getting a blueliner has to take top priority but adding more scoring depth up front is something else he should be trying to do before the puck drops on 2020-21.
Photo courtesy of USA Today Sports Images.