With just a few days left before free agency opens, the Dallas Stars front office have licked their Stanley Cup wounds and are back to work. Pierre LeBrun of The Athletic reports that GM Jim Nill has reached out to pending free agent goaltender Anton Khudobin's camp, letting them know that the team wants to re-sign him. LeBrun notes that the "feeling is mutual" for Khudobin.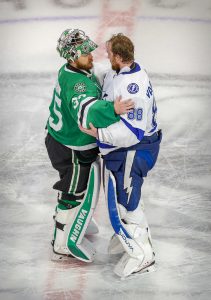 If you thought that Khudobin playing well and leading the Stars to the final was just a miraculous bubble hockey story, you haven't been paying attention. The 34-year-old goaltender has been one of the best tandem options in the league for years now, even leading the entire NHL in save percentage during the 2019-20 regular season. Over the last three years he has posted a .922 save percentage, good enough to compete with the best in the league over that span. Sure, it came in just 102 appearances, but it is clear that Khudobin can be an elite backup or 1B option for a team looking to go deep in the playoffs.
Given the 2020-21 schedule is expected to be considerably condensed, a goaltender like Khudobin could have even more value.
Still, this is the year of the goalie in terms of offseason availability. Seemingly everywhere you turn a team is shopping a young netminder or allowing a veteran to reach free agency. If Khudobin wants to avoid that whole musical chairs routine, re-signing with Dallas would certainly be a comfortable fit.
Remember, this is a goalie who has already bounced around the league. Originally selected in the seventh round by the Minnesota Wild, he would play just six games for that team before ending up in Boston. He then went to Carolina, Anaheim, and back to Boston before heading to Dallas, where he has found a home and played his most consistent hockey.
The Stars do already have Ben Bishop in place at a $4.9MM cap hit, but should have some extra room as long as they don't go huge with some of their restricted free agents. Radek Faksa, Roope Hintz and Denis Gurianov all need new contracts, but unless they all take huge long-term deals there should be a little bit of room left over for the Stars to spend on their Russian bear.
Photo courtesy of USA Today Sports Images