As teams are eliminated from the playoffs, it means that the offseason has arrived for several more squads.  Having covered the teams that weren't a part of the NHL's return and the ones ousted in the Qualifying Round, we shift our focus to the ones that were eliminated in the official first round.  Next up is a look at Montreal.
The regular season was not a good one for the Canadiens who were sellers at the trade deadline.  However, the expanded postseason format gave them the final spot and they went on to make the most of it, upsetting Pittsburgh in the Qualifying Round before putting up a good showing against Philadelphia before ultimately being eliminated.  GM Marc Bergevin has already started his offseason work with the acquisitions of goaltender Jake Allen and defenseman Joel Edmundson but they still have some things to accomplish over the coming months if they want to get back into playoff contention.
Add Scoring Wingers
With Nick Suzuki and Jesperi Kotkaniemi showing some positive signs in their young careers, the Canadiens now have some depth down the middle which gives them an opportunity to try to work on upgrading their scoring on the wings for the first time in a while.  They're a team that's built on trying to score by committee but as their series against Philadelphia showed, they don't have a go-to option when they need a key goal.
Brendan Gallagher has been Montreal's closest thing to a top goal scorer in recent years.  He had surpassed the 30-goal mark in the past two years and while he didn't get there this season, he scored at that pace (22 in 59 games).  Tomas Tatar led the team in points during the regular season and was second the year before.  After that, however, it thins out in a hurry; no other winger had more than 16 goals this year.
Jonathan Drouin has underwhelmed for the most part since joining the team from Tampa Bay while Joel Armia, Artturi Lehkonen, and Paul Byron are more known for their play in the defensive end.  One of their better offensive contributions from a winger this season came from Ilya Kovalchuk after his contract was terminated by the Kings but he was also thrust onto the top line quickly which played a role in his brief success.
While they've spent a good chunk of their cap space already, Bergevin would be wise to look for another reliable scorer on the wing.  The odds of being able to afford and acquire a front liner are slim but there are some players in free agency who would give them a lift offensively and at least deepen their by-committee approach towards scoring.
Domi Decision
When Montreal acquired Max Domi from Arizona two years ago, he was coming off of a tough year and a bridge deal made some sense.  Since then, he had a breakout 72-point campaign in 2018-19 but had another tough year this season as his output dipped to just 44 points.  While there is still some uncertainty surrounding what type of offensive player he can be, a short-term contract doesn't make as much sense now that he's arbitration-eligible and two years away from being eligible for unrestricted free agency unless they do a contract that's three seasons or longer to buy a bit more team control.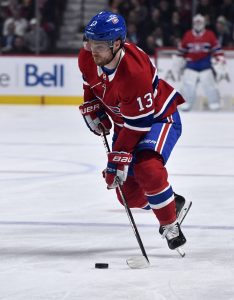 Further complicating things for Bergevin is the presence of Suzuki and Kotkaniemi, their hopeful top two centers of the future.  Committing a long-term deal to Domi if they envision him as a third liner doesn't make a lot of sense and Phillip Danault (more on him in a bit) is also in the picture as well.  There's the possibility of moving him to the wing but Domi has made it known that his preference is to remain down the middle.  It's also worth noting that he has changed agents as well, moving from Pat Brisson to Darren Ferris.
A year ago, it looked like Domi was going to be part of Montreal's long-term core but now, that's not as certain.  If their inclination now is that he won't be, this may be the right time to try to move him even though his output dipped this season.  There are no impact centers available in unrestricted free agency and quite a few teams will be looking to trade for help down the middle so Bergevin should be able to still yield a good return if he wants to go that route.
One way or another, a decision is soon pending for the 25-year-old.  Getting to arbitration is an outcome that they likely will want to avoid because of Domi's 72-point campaign which means that they'll have to do something in the near future and choose what their plans are for him.
Extension Talks
There aren't many teams that have as much cap room for 2021-22 as Montreal does but there's a reason for that.  They have just three forwards signed for that year with Gallagher, Tatar, Danault, and Armia among those set to become unrestricted free agents.  So will defenseman Jeff Petry.  While this gives them some potential flexibility for Seattle's expansion draft (it's unlikely a pending UFA would be protected), having that many core players enter their walk years is certainly risky.
Petry and Gallagher are the likeliest to have early extension talks.  Petry has become a strong number two defender over his time with Montreal and should be in line for a raise on his current $5.5MM price tag.  Gallagher, meanwhile, has been one of the better bargains in the league at $3.75MM while other 30-goal players are getting closer to $6.5MM to $7MM on the open market.  That's probably the price range that would be needed to get an early extension done.  Tatar's quiet showing in the playoffs likely hurts his chances of getting a new deal done this offseason.
Then there's Danault.  He indicated after the season that his role in 2020-21 would play a factor in deciding whether or not to re-sign.  He has been a fixture on Montreal's top line the last two seasons but with their youngsters potentially ready for more ice time, Danault's spot on the depth chart is probably going to change.  If they can find a role that he's comfortable with and the right price point (his cap hit is just under $3.1MM currently), it's possible that they could get a deal done now which would further put Domi's future into question.
After Montreal's elimination, Bergevin indicated that he intended to be careful this offseason knowing that this situation was on the horizon.  Getting one or two of these players signed would go a long way towards giving them some certainty in cap planning even if it winds up hurting them a bit when it comes to who they lose to the Kraken.
Photo courtesy of USA Today Sports Images.