While progress on a long-term deal between the Blues and defenseman Alex Pietrangelo wasn't being made, some still expected that the two sides would find a way to get a deal done in spite of their salary cap situation.  However, that doesn't appear to be the case now as TSN's Darren Dreger reports (Twitter link) that talks have broken off between the two sides and that the team has advised their captain to test free agency next month.
The 30-year-old is coming off of another fine year that saw him collect 16 goals (a career high) and 36 assists in 70 games before the pandemic shut down the rest of the regular season.  Had the season played out, he easily would have set a new benchmark in points as well as he was two shy of his 54-point campaign in 2017-18.  He logged over 24 minutes a game for the ninth straight year and was a fixture on both special teams units.  In a league where there aren't many all-around number one defensemen, Pietrangelo is one of them.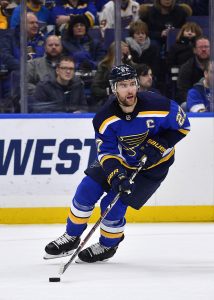 It's that fact that still makes it surprising that he's set to head to the open market.  While the Blues don't have the cap space to keep him without making other moves first, they're the ones that put themselves in that situation after handing Justin Faulk a seven-year, $45.5MM extension upon acquiring him last September while Marco Scandella received a four-year, $13.1MM deal in the early weeks of the pandemic.  Had they not made those moves, they would have had more flexibility in talks with Pietrangelo, albeit with multiple important roster spots to fill.  Now, they have more than $76MM in commitments for 2020-21 already.
While the salary cap will remain flat next season at $81.5MM, it shouldn't affect Pietrangelo's market all that much.  Top players are still expected to receive big-ticket contracts and defensemen of his caliber rarely make it to the open market.  Accordingly, there will be plenty of suitors for his services (even if puts them into cap trouble) and he'll be well-positioned to get significantly more than the $6.5MM he has played under for the last seven years.  Earlier this week, it was reported that Toronto, Vegas, and Florida could all be in the mix although each of those teams would be hard-pressed to make a deal work under their respective salary cap situations.
Jeremy Rutherford of The Athletic reports (Twitter link) that the last offer from St. Louis to Pietrangelo's camp carried a $7.7MM AAV but did not provide any breakdown with regards to salary/signing bonus structure.  While that's still a decent-sized raise and would make him the highest-paid player on the team, it's seemingly well below what he could get in free agency.  That price tag wouldn't even put him among the top ten in cap hits for blueliners league-wide.  It's safe to assume that whatever deal he signs will put him among that group.
For St. Louis, their focus will now have to turn to the trade market.  While there can be no conditions attached to a trade contingent on them signing a contract, a team can still trade something for Pietrangelo's negotiating rights, similar to what Montreal did for Joel Edmundson last weekend.  While a draft pick or prospect is far below his actual value, it's still better than nothing which is where things appear to be headed now following this news.  In the meantime, other teams will be very intrigued as it looks like a number one defender is set to reach the open market next month.
Photo courtesy of USA Today Sports Images.