As teams are eliminated from the playoffs, it means that the offseason has arrived for several more squads.  Having covered the teams that weren't a part of the NHL's return and the ones ousted in the Qualifying Round, we shift our focus to the ones that were eliminated in the official first round.  Next up is a look at St. Louis.
During the regular season, it looked like the Blues were in good shape to repeat their Stanley Cup title as they were first in the Western Conference (second in the whole league) before the pandemic hit.  However, they scuffled during the seeding games and wound up facing off against Vancouver who upset them in seven games with Jordan Binnington having a rough showing in the postseason.  Most of their team is already signed for next season but there are still a few things that GM Doug Armstrong needs to accomplish.
Clear Out Contracts
St. Louis was a team that was hit hard by the pandemic causing the salary cap to flatten out.  All of a sudden, instead of either trying to add to their roster or at least keep it intact, they've already had to move out one veteran on the cheap after sending Jake Allen to Montreal for a relatively low return of a third-round pick.  In doing so, they've handed the keys between the pipes to Binnington and will quite likely have a rookie as his backup in Ville Husso who is 25 and has yet to play in an NHL game.  That was the easy move as Allen did well enough this season to at least have some positive value.  The other cost-cutting moves may be a bit more challenging.
At the top of this list has to be Alex Steen.  He has been with the team for 12 years and has been productive for about 10 of those.  The last two are the ones where he hasn't been.  Instead, his role has diminished considerably and for a $5.75MM price tag, that's not good.  It's difficult to part with someone that has been around that long and is as well-respected as he is (and optically, paying him to not play via a buyout or trading an incentive to get out of the contract stings) but it's a move they're going to have to make if they want some flexibility this offseason.
Tyler Bozak is another pricey player on an expiring contract that isn't providing full value.  He's still capable of winning faceoffs and providing some offense and with the center market being limited in free agency, they should have some interest in him but it will still likely require an inducement of sorts to get out of his $5MM price tag.  Until they find a taker for him or Steen, they're going to be quite limited in what they can try to do in the coming months.
Re-Sign Pietrangelo
I know things aren't looking good on this front right now.  When reports surface that talks have broken off and the team has advised him to hit the open market, it's hard to be optimistic about a deal getting done.  But finding a way to get a contract in place with their captain still has to be their top priority and is the key to having a successful offseason or not.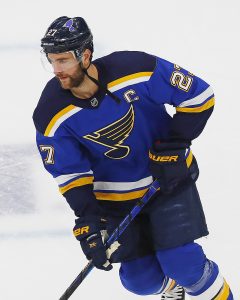 They don't have enough cap space to do so at the moment (more than $76MM in commitments already) so some work needs to be done (such as moving out another contract) but they do have the ability to go over the cap by 10% during the summer so there are ways they can get this done.
Beyond the AAV of the contract, the structure will play a big role in whether or not something can get done.  While the team has shown a willingness to frontload deals, they have avoided handing out signing bonuses in any pact that they've made with a player.  That's a big carrot for players and an unwillingness to offer that to Pietrangelo won't help their chances of signing him.
Yes, the free agent market is likely to be deflated with the salary cap flattening out at $81.5MM.  Many teams are like the Blues in that they need to free up some money but in spite of that, there will be enough teams with cap room (or the willingness to go over to get Pietrangelo and figure it out after) that it shouldn't drastically affect what he'll get.
Pietrangelo has worked his way into being a capable number one defenseman in a league that isn't exactly loaded with them.  To lose a player like that for nothing would be a huge blow even though they have Justin Faulk that is capable of taking on a bigger role than he had with St. Louis this past season.  Somehow, someway, Armstrong needs to find a way to get something done.
Re-Sign Dunn
While Pietrangelo gets all of the attention, there is another defenseman that needs to be re-signed and that's Vince Dunn.  After a strong sophomore year offensively, his numbers took a step back as he dipped from 35 points in 78 games to just 23 in 71 while his ice time was the lowest of any of his three NHL seasons.  That doesn't give him the best case to work with while he's not eligible for arbitration either.
However, he still has himself in line for a decent raise on his $775K salary from this season.  Even with the lowered offensive numbers, he could triple that amount without too much difficulty.  But as things stand, he'd be looking at a short-term contract to help keep the AAV down.  That could change depending on what happens with Pietrangelo.  If they don't re-sign him and are able to clear out at least one of their bigger deals, then it may make sense to try to lock Dunn up on a longer-term deal, one that may be a little high in the early going but provide some value on the back end.
Given the dominoes that have to fall one way or the other – Pietrangelo's fate has to be determined first as well as seeing what other money Armstrong can free up – this is something that shouldn't be on the front burner.  Without arbitration, this is a contract that should be able to be pushed aside until later this fall but it is something that they will need to accomplish before 2020-21 begins, likely at some point in December.
Photo courtesy of USA Today Sports Images.