Free agency is now just under a month away and many teams are already looking ahead to when it opens up.  There will be several prominent players set to hit the open market in late July while many teams have key restricted free agents to re-sign as well.  No one would have expected that one of the most interesting UFA in Florida would be a goalie, but after more struggles from their expensive starter, that's exactly what has happened.
Key Restricted Free Agents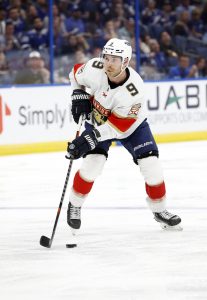 F Sam Bennett – The Panthers' big trade deadline addition fit in perfectly after moving to the east coast. Bennett scored more goals and points in 10 games for the Panthers than he did in 38 for the Calgary Flames, and then was once again added his strong postseason performance. The 25-year-old now has 12 goals and 24 points in 35 career playoff games, scoring at a near 30-goal pace despite never totaling more than 18 in a single regular season. One reason for the added point production in Florida? Bennett saw his average ice time increase by nearly five minutes per night as he plugged into the top-six immediately. There's no doubt he will be looking for a raise on the $2.55MM cap hit he has carried for the last two seasons, but the Panthers are actually in an interesting position. Bennett's counting stats were so poor in Calgary—he averaged just 25 points over his first five seasons—that his arbitration case wouldn't be very strong. If Florida wanted to, they could go that route and try to squeeze as much excess value as they can on a short-term deal.
D – Gustav Forsling – Forsling played in 122 games for the Chicago Blackhawks between 2016-2019, recording just 27 points. He averaged just over 17 minutes a game during those years, moving in and out of the lineup as a depth option. Then in 2019-20 he played the entire season in the minor leagues, suiting up 57 times for the Charlotte Checkers. Why is he an important RFA? Because there was a real breakout this season for the 25-year-old defenseman, with 17 points in 43 games and an average TOI of nearly 20 minutes. In fact in the playoffs, Forsling averaged 21:29 in six games against the Tampa Bay Lightning, scoring a goal and two points in the process. With veteran defenders being phased in Florida, there will be a chance for Forsling to establish himself as a core piece over the next few seasons. A multi-year contract could be in order, to provide some security for player and team.
Other RFAs: F Anthony Duclair, F Lucas Wallmark, F Juho Lammikko, F Patrick Bajkov, F Brad Morrisson, D Noah Juulsen, D Jake Massie, D Lucas Carlsson, D Chase Priskie, D Alec Rauhauser, G Sam Montembeault, G Ryan Bednard
Key Unrestricted Free Agents:
F Alexander Wennberg – Speaking of having a career resurrected in Sunrise, Wennberg experienced an explosion in goal scoring in his first year for the Panthers. After racking up just 40 goals in 415 games for the Columbus Blue Jackets, the playmaking center scored 17 times in 56 games this season for Florida. No, his insane 20% shooting percentage won't continue, but Wennberg and the Panthers were a perfect fit this season. GM Bill Zito obviously knows him very well from their time together in Columbus and an extension seems likely here if a reasonable number can be found. Still just 26, Wennberg's representatives are surely patting themselves on the back for taking the one-year "rebound" deal in Florida before setting their sights on something longer this time around.
D Brandon Montour – The career shifts continued with Montour, who arrived in Florida through a trade with the Buffalo Sabres and immediately found more success when insulated by better teammates. It's hard to know what his ceiling is at this point, given how drastically his performance has varied throughout the first few years of his career, but make no mistake there are many characteristics of Montour's game that will be appealing to NHL teams this summer. He just turned 27, he's right-handed, and has shown an ability to drive play and contribute to the powerplay in the past. Though he had just four points in 12 games with the Panthers, Montour's possession numbers rebounded and he looked a lot closer to the player that racked up multiple 30+ point seasons in the past. Unfortunately, some of the downsides appeared again in the playoffs, when Montour was outmatched in his own end and saw his minutes reduced dramatically in several games. Is he a reliable top-four option moving forward? That certainly is still to be seen.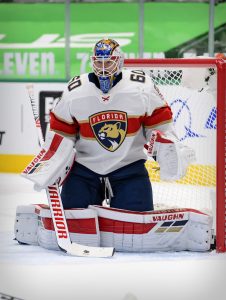 G Chris Driedger – The Panthers had two starting-level goaltenders on their team at the end of this season, and neither one was Sergei Bobrovsky. Driedger just simply outperformed Bobrovsky at every turn, racking up a .927 save percentage in 23 appearances, his second straight year of strong goaltending in backup/tandem role. That's going to generate a lot of interest on the open market, given the fact that he's just 27 and still likely won't command a huge salary after playing the last two years on a two-way deal. There's no guarantee that Driedger can continue to perform at this level on an increased workload (see: Scott Darling), but with Spencer Knight ready to contribute, it's going to be near-impossible for the Panthers to bring the free agent goaltender back unless they somehow rid themselves of Bobrovsky's $10MM cap hit.
Other UFAs: F Nikita Gusev, F Scott Wilson, D Tommy Cross, D Ethan Prow, D Brady Keeper, G Phillippe Desrosiers
Projected Cap Space
The Panthers have a lot of work to do and not that much cap space to do it. The team currently sits at just over $13.1MM of projected space, but if they were to part ways with veteran players like Keith Yandle or Anton Stralman, they could open up some extra room. Perhaps more important to note is the situation for next year, when Aleksander Barkov is scheduled for unrestricted free agency. The Panthers have been benefiting from his extremely undervalued $5.9MM cap hit the last several years but will have to give him a hefty raise to keep him in Florida. The open market awaits Jonathan Huberdeau and MacKenzie Weegar just two years from now, meaning there will have to be a full plan in place by Zito and company this summer before they sign any long-term deals.
Photo courtesy of USA Today Sports Images.  Contract information courtesy of CapFriendly.