Free agency is now just under a month away and many teams are already looking ahead to when it opens up.  There will be several prominent players set to hit the open market in late July while many teams have key restricted free agents to re-sign as well. The Kings have already done a lot of their offseason work, unrestricted free agency isn't really even an issue for them in the coming weeks.
Key Restricted Free Agents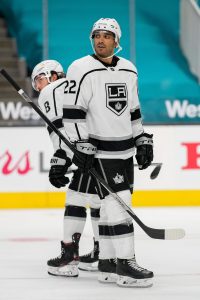 F Andreas Athanasiou – What the heck is Athanasiou? Is he the 30-goal scorer from 2018-19, the mess that went unqualified in Edmonton, or the 40-point-pace utility knife that he showed this season? If the Kings want to find out, they could be taking the risk of arbitration awarding Athanasiou a hefty contract. The 26-year-old could settle for a one-year deal in the arbitration process and head to unrestricted free agency a year from now if the Kings decide to issue him a qualifying offer. If he were to sign a multi-year extension, it would be something new for Athanasiou, who has only ever played on one- or two-year deals since his entry-level contract expired.
F Trevor Moore – Talk about work ethic. Moore has climbed all the way from undrafted college free agent to full-time NHL forward, setting career-highs in goals (10), points (23), and games played (56) this season. Coming off a two-year deal that carried an average annual value of just $775K, the 26-year-old winger is looking at a raise, even if it won't be a huge one.
F Lias Andersson – Signing a 22-year-old restricted free agent with just 89 NHL games to his name usually isn't a big issue, but nothing has ever come simply with Andersson. The seventh-overall pick from the 2017 draft, Andersson exercised his European Assignment Clause for the New York Rangers in his first season and left North America altogether during the 2019-20 season. This year he split time between HV71, the Kings, and the Ontario Reign, but does look like he should have an inside track for a full-time roster spot come next season. Andersson isn't arbitration-eligible, meaning the Kings could wait and force him to sign his qualifying offer (or an offer sheet) if he wants to play in the NHL this season, meaning the only leverage he really has is the threat of another return to Europe.
Other RFAs: F Matt Luff, F Bokondji Imama, F Michael Eyssimont, F Drake Rymsha, D Kale Clague, D Jacob Moverare, D Austin Strand
Key Unrestricted Free Agents:
D Christian Wolanin – Impressively, the Kings have just four UFAs left to sign, and Wolanin is the only one that played more than two games for Los Angeles this season. He played three. There's not really much to say about the Group VI UFA, other than he could be a potential depth piece for the Kings next season. He played 15 games with the Senators before being traded at the end of March. During his three games with the Kings, he failed to record a point.
G Troy Grosenick – Grosenick certainly isn't a must-sign goaltender, but like any team, the Kings will have to address their depth at the position this summer. They do have a pair of interesting prospects, but a veteran third-stringer like Grosenick should probably be brought in just for emergency situations. The 31-year-old did play two games this season, posting a .922 save percentage. That took his career total to four appearances.
Other UFAs: D Mark Alt, D Daniel Brickley
Projected Cap Space
After acquiring Viktor Arvidsson earlier this month, the Kings now have just under $15.5MM in cap space heading into the summer. With so few players to re-sign that's a good amount for the free agent market, but it doesn't mean the team can spend it haphazardly. If their young players develop as expected, there will be big extensions to come down the pipe in the next few years, meaning they'll need cap space to fit everyone in. Remember, the trio of Anze Kopitar, Drew Doughty and Jonathan Quick still combine for a cap hit of nearly $27MM the next two seasons (with Doughty's deal stretching much further than that). Adding free agents makes sense, adding long-term money might not.
Photo courtesy of USA Today Sports Images.  Contract information courtesy of CapFriendly.